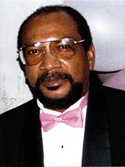 9/11 Pentagon Memorial Heroes
SSG Willie Q. Troy, USA, Retired
Born March 20, 1950, 51 years old
Willie Q. Troy has voice mail messages he will never retrieve. Family members and friends frantically tried to contact him by cell phone as news of the attack on the Pentagon became widely publicized. But he never called back.
Willie was born the fifth of six children on March 20, 1950 to Mrs. Bessie Mae Troy and the late Mr. John Troy in Delco, North Carolina. He was active in the school band and was able to play various instruments with minimal instruction. His talent so impressed the bandleader that he would frequently ask Willie to teach the class.
Upon graduation from West Columbus High School in 1968, he moved to Washington, DC to find better employment opportunities. However, he was drafted by the United States Army in 1970 and served in Vietnam as a guard to General Abrams. Although he was wounded during the course of his tour, he stayed in Vietnam until his assignment was completed.
During his time in combat, Willie and his childhood sweetheart, Judy, wrote letters to each other on a daily basis. They were married three days after his return to North Carolina. Shortly afterward, the family was stationed at White Sands Missile Range in White Sands, New Mexico where their daughter, ReNee, was born.
Willie was next stationed at the Pentagon in Washington, DC for four years; Fort Clayton, Panama for three years; and Fort Bragg, North Carolina for six years. As a result of the injury received in Vietnam, he retired after 151/2 years with full retirement and benefits as a disabled veteran.
After years of having to leave promising jobs in order to travel with her husband, Judy was ready to settle down into the life of a retired soldier's wife. However, Willie encouraged her to pursue her own ambitions concerning her career. Subsequently, the family moved to Germany for seven years, living in Bad Krueznach, Frankfurt and Fulda. After the drawdown of troops in the European theater, they decided to return to the Caribbean. They moved to Panama again and stayed there for another seven years. After the implementation of the Panama Canal Treaty, United States Army South was relocated to Fort Buchanan, Puerto Rico, where they lived and worked until December 2000. While there, Willie completed requirements for his four-year degree from Stewart University in Computer Science.
Willie and Judy decided that after 15 years of living overseas, it was time to come back home – or, at least, as close to North Carolina as they could. She was chosen for a position at the Aberdeen Proving Ground-Edgewood area, and he was selected for employment (with a promotion) at the Pentagon. He woke up at 4:15 a.m. every day in order to take the MARC train into Washington. His appearance was always impeccable, reflecting his pride at working at the nerve center of the military. His co-workers describe him as "knowledgeable" and "one of the smartest people I've ever met."
Willie and Judy enjoyed traveling to their hometown where Willie would cook big dinners for his extremely large family, and laugh and joke with them until the early hours of the morning. He bought a house for his mom and loved the way she sat in her recliner watching television. He and his older brother enjoyed fishing but could never find the "perfect" spot. So . . . Willie dug a pond in his backyard, stocked it with fish, and invited everyone over to enjoy his favorite pastime. Anything his granddaughter asked for, she got – even the purple "Tina Turner" wig that was the last thing he gave her.
The events of September 11th, 2001 changed that forever. He will be missed by all those whose lives he touched, whether it was a kind word or caring gesture. He left an impression on everyone he met. Judy is thinking of keeping his cell phone in service so she can call to hear his voice saying, "I'm unavailable right now, but leave your name and number, and I'll get back with you as soon as I can." Nothing could be more true.
9/11 Pentagon Memorial Heroes
Meet the Heroes
The Pentagon Memorial was created to remember and honor those family members and friends who are no longer with us because of the events of September 11th, 2001 at the Pentagon.