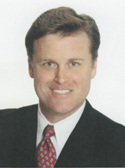 9/11 Pentagon Memorial Heroes
Christopher C. Newton
Born September 23, 1962, 38 years old
Christopher Cairo Newton, 38, was a man who was deeply loved and widely admired. He approached everything with enthusiasm and purpose, all the better for those who were fortunate enough to know him. He was a man who took his job seriously, his family seriously and his responsibilities seriously, and he did it all with intensity. But – at the same time – through all his seriousness, he was able to laugh at himself, and particularly at his own foibles. A quote from a friend says it best, "He was confident with no airs, loving with no exceptions, giving with no greed, funny with no offense and Godly with no evil."
Christopher, his wife Amy and their two children Michael and Sarah, had recently moved from Southern California to the Virginia suburbs of Washington, DC. Christopher was President and CEO of Work|Life Benefits, and was in the process of relocating company headquarters to Northern Virginia, to be closer to key customers and the Paris-based corporate parent, Accor. This move would also allow him to spend more time with his family – attend school functions, coach his son's little league team or just have a quiet dinner at home with his wife and children.
Many of Christopher's accomplishments can be listed on paper. Earning the rank of Eagle Scout at 14, graduating from Cal Poly San Luis Obispo with high marks, earning his CPA, becoming CFO and later, after completing his MBA at UCLA's Anderson School, being named President and CEO of Work|Life Benefits. Christopher was a successful businessman and world traveler who loved the performing arts and music, the game of golf, and any home improvement project he could find. But perhaps his most important accomplishment, the identity he would tell you he was most proud of, was that of a loving, devoted family man.
Christopher Newton's short life is frozen in time, and his achievements, as well as his love and his memory will be passed from generation to generation. Rather than declining, his life came to a spectacular and accomplished terminus at its highest point – one wonders what would have continued from such a truly gifted, talented and unique individual. His wife, son, daughter, father, mother, sister, brother, aunt, cousins, nieces, nephew, and a close circle of friends survive him. God Bless Christopher Cairo Newton.
9/11 Pentagon Memorial Heroes
Meet the Heroes
The Pentagon Memorial was created to remember and honor those family members and friends who are no longer with us because of the events of September 11th, 2001 at the Pentagon.