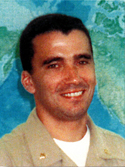 9/11 Pentagon Memorial Heroes
LCDR David L. Williams, USN
Born February 2, 1969, 32 years old
Lieutenant Commander Dave Williams was born on February 2, 1969 in San Rafael, California. He grew up in Los Gatos, California before moving to Virginia. Lieutenant Commander Williams graduated in 1987 from South Lakes High School in Reston, Virginia, where he was on the varsity track team.
Lieutenant Commander Dave Williams graduated from Virginia Military Institute in 1991 with a Bachelor of Arts degree in English. Upon receiving a commission through the NROTC program, he attended Surface Warfare Officer's School in Newport, Rhode Island. His first sea assignment was aboard U.S.S. Gunston Hall (LSD-44), where he served as the Electronic Materials Officer and Navigator. While aboard Gunston Hall, Lieutenant Commander Williams completed two Mediterranean deployments.
Ashore, Lieutenant Commander Williams was assigned to the Naval Postgraduate School in Monterey, California, graduating with a Master of Arts degree in National Security Affairs in December 1996. He then attended and graduated from Surface Warfare Department Head School and was subsequently assigned as Operations Officer aboard the U.S.S. Whidbey Island (LSD-41). During this tour, Whidbey Island completed a UNITAS deployment to the Caribbean and South America. In May 1997, Lieutenant Commander Williams assumed duties as the Operations Officer aboard U.S.S. Nashville (LPD-13) during a deployment to the Mediterranean Sea. He also participated in Nashville's operations near Vieques, Puerto Rico in 1999.
Lieutenant Commander Williams' final assignment was as an action officer on the Staff of the Chief of Naval Operations, serving in the Office of Strategy and Concepts (OPNAV N5). Lieutenant Commander Williams was recently selected to serve as an Executive Officer afloat.
Lieutenant Commander Williams' personal awards include the Purple Heart, the Meritorious Service Medal, the Navy and Marine Corps Commendation Medal (two awards), the Navy and Marine Corps Achievement Medal, and numerous service and unit awards.
A sports enthusiast and an avid golfer, he had most recently competed in the SPUD Triathlon and the Army-Navy Country Club golf championship.
Lieutenant Commander Williams was married to the former Sara Tally Heath and they have two daughters, Sophie and Meredith. Lieutenant Commander Williams and his wife, Sara, had just celebrated their ninth wedding anniversary and the eagerly anticipated birth of their third child in April. Lieutenant Commander Williams is also survived by his mother, Kathy Smith; father, Mike Williams; brother, Pat Williams; and sister, Becky Urbanski.
9/11 Pentagon Memorial Heroes
Meet the Heroes
The Pentagon Memorial was created to remember and honor those family members and friends who are no longer with us because of the events of September 11th, 2001 at the Pentagon.