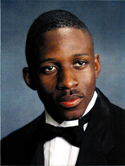 9/11 Pentagon Memorial Heroes
Edmond G. Young, Jr.
Born May 22, 1979, 22 years old
Edmond Grafton Young, Jr., better known as "E.G.," was born on May 22, 1979 in Annapolis, Maryland. He was the only son of Margaret and Edmond G. Young, Sr. He departed this life on September 11, 2001.
Edmond attended Peters U.M.C. where he served as a Youth Choir and Usher Board member. He attended Mt. Harmony Elementary and Northern Middle and High Schools. While in high school his interest in computers led him to the Calvert Career Center. Later, he received an Associate degree in Computer Applications and Network Administration at the Computer Learning Center (CLC) in 1999. While attending CLC, he worked part time at Safeway in Dunkirk, Maryland. He successfully completed two of the seven Microsoft certification exams. He further enhanced his knowledge by working part time for Global Computer Consultants, Inc.
Edmond began his career as a Helpdesk Analyst for CACI. Later, he became a Desktop Support Technician for BTG, Inc. He was transferred to the Pentagon earlier this year where he supported the DCSPER Army Division. On September 11th at 9:38 a.m., American Airlines Flight 77 hit the Pentagon as he worked on a General's computer. He was listed as missing for nine days. Edmond enjoyed mentoring teens, playing basketball, and spending time with his friends. The highlight of his life was the birth of his son, Stephan, with Jonette Ramona Mackall on May 26, 1997. He was a devoted and extremely generous father who cherished every moment he spent playing with and nurturing his son.
His sister, Michele Young, preceded Edmond in eternal life. He leaves to cherish his memory his parents, Margaret and Edmond Young, Sr.; his son, Stephan Young; his sisters, Marvene and Markia Young; a nephew, Malik Tonkins; his grandparents, Helen and Maurice Creek, Sr. and Louise and William Young; friend, Jonette Ramona Mackall; nine uncles, Wilbur, Elmer and Maurice Creek, Jr., William, Russell and Cordell Young, Bob Adams, Alvin Jones, Sr. and Aaron Sollers; ten aunts, Gloria Wilkerson, Barbara Young, Mary Adams, Dorrine Jones, Angela Creek, Sarah and Rosia Young, Curley Gilbert, Regina Sollers and Doris Creek; Godmother, Dorothy Dorsey; and a host of cousins, relatives and friends.
9/11 Pentagon Memorial Heroes
Meet the Heroes
The Pentagon Memorial was created to remember and honor those family members and friends who are no longer with us because of the events of September 11th, 2001 at the Pentagon.