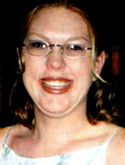 9/11 Pentagon Memorial Heroes
SK3 Jamie L. Fallon, USN
Born December 3, 1977, 23 years old
Jamie Lynn was born in Towson, Maryland. She joined the Navy, following in the footsteps of her father, a retired Chief Radioman. In her brief five years as an enlisted Storekeeper, Jamie had the opportunity to fit in an overseas tour in Bahrain and a three-year sea duty tour before being tapped to serve as a watch-stander in the Navy's command center at the Pentagon. Jamie was on duty in the Pentagon on 11 September when the hijacked American Airlines Flight 77 crashed into the building near the command center. She was part of a team of strategic planners serving her country to keep 

Americans safe. Jamie's parents, Mike and Pat Fallon, live in Woodbridge, Virginia, with her seven-month-old son, Kahleb. Michael Fallon, Jamie's brother, lives in Amherst, Massachusetts, and her sister, Teresa Steinbach, lives in Fredericksburg, Virginia.
The Fallons want to let the world know that Jamie Lynn "had a heart of gold and a real zest for life."
9/11 Pentagon Memorial Heroes
Meet the Heroes
The Pentagon Memorial was created to remember and honor those family members and friends who are no longer with us because of the events of September 11th, 2001 at the Pentagon.