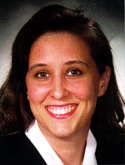 9/11 Pentagon Memorial Heroes
Sandra D. Teague
Born June 19, 1970, 31 years old
Sandra D. Teague, 31, couldn't wait to get on American Airlines Flight 77, the first leg of a three-week trip to Australia.
"She had been planning her trip, literally, all year," said an uncle, Charles Sherrill. "She was going to go rafting, trekking, and rock-climbing. It was going to be her first trip abroad, her great adventure."
Early that fateful Tuesday, Teague's boyfriend, Frank Huffman, drove her to Dulles International Airport from her home in Fairfax. Then Huffman, a naval reservist on active duty, headed for a naval building overlooking the Pentagon, where about 9:40 a.m., Teague's plane came crashing down.As news of Teague's death spread, her parents, Elaine and James Teague, and her siblings, Jennifer and Chris Teague, were inundated with calls from her many friends and co-workers at Georgetown University Hospital, where Teague worked as a physical therapist.
They described Teague as a warm, witty, vivacious and athletic woman. She moved to the Washington area last year from Des Moines where she received her Master's degree in Physical Therapy from the University of Osteopathic Medicine and Health Sciences in 1998.
Although Teague and Huffman were not engaged, friends and family said they were moving quickly in that direction. And at the hospital, Teague was considered "an excellent clinician and a rising star," said Meris Chang, director of physical medicine and rehabilitation.
"Everything was just beginning for her," Chang said. "It's a tremendous, tremendous loss."
9/11 Pentagon Memorial Heroes
Meet the Heroes
The Pentagon Memorial was created to remember and honor those family members and friends who are no longer with us because of the events of September 11th, 2001 at the Pentagon.