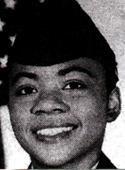 9/11 Pentagon Memorial Heroes
SGT Tamara C. Thurman, USA
Born April 4, 1976, 25 years old
As Saundra Woolen talks about her daughter, Tamara, she begins in the past tense, then stops.
"She was such a sweet . . . is such a sweet girl," she says.
It had been more than two weeks since Army SGT Tamara Thurman was listed as missing in the destroyed section of the Pentagon, but her family refused to give up hope. They could not imagine that Thurman, a serious 25-year-old who loved basketball and music, could be gone.
"I'm on hold, like a phone," Woolen says. "I didn't know what to do at that point except hope and pray." In the Brewton, Alabama home where Thurman was raised, family and friends are keeping a vigil: lighted candles inside, an American flag outside.
Thurman, who enlisted out of high school, served in Bosnia, Korea and Germany. She has been awarded the Army Commendation Medal, the Army Achievement Medal, and the Army Good Conduct Medal. At the Pentagon, she worked as an assistant in the office of the Deputy Chief of Staff for Personnel.
Woolen, who last saw her daughter Labor Day weekend, has filled time since the attacks thumbing through family photo albums, doing chores and taking long walks. Friends drop by to offer solace.
"I was very proud of her," Woolen says of her daughter, then corrects herself, "I am very proud of her."
9/11 Pentagon Memorial Heroes
Meet the Heroes
The Pentagon Memorial was created to remember and honor those family members and friends who are no longer with us because of the events of September 11th, 2001 at the Pentagon.