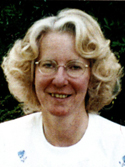 9/11 Pentagon Memorial Heroes
Sheila M.S. Hein
Born May 2, 1950, 51 years old
Ask Peggy Neff about her long-time partner, Sheila Hein, and she points to their University Park backyard.
Seven years ago they bought the house as a fixer-upper – its yard a tangle of overgrown brush. Today, it's "our own private park," Neff said, pointing out the flagstone patio they put in themselves, the meticulously kept gardens Hein designed and the homey benches tucked in quiet corners. "She is what this yard is," Neff said. "There's a whole lot of love here."
Hein, 51, was at the Pentagon on Tuesday, taking part in an Army internship, studying manpower analysis. A native of Springfield, Massachusetts, she joined the Navy out of high school and was sent to Virginia. She spent ten years in the service as a photographer, married twice, and ventured into a career in computer graphics working on government contracts.
She and Neff met 17 years ago. Neff says Sheila Hein loved to laugh through life.
Three years ago, Hein received a Bachelor's degree from Columbia Union College after taking courses here and there for 20 years. "She decided it was time to finish it," Neff said. She planned to get a Master's degree.
Hein loved to travel, loved to read, and recently convinced Neff that they should buy bicycles and ride together.
"We rode them six times," said Neff, adding that she'll continue to ride.
9/11 Pentagon Memorial Heroes
Meet the Heroes
The Pentagon Memorial was created to remember and honor those family members and friends who are no longer with us because of the events of September 11th, 2001 at the Pentagon.