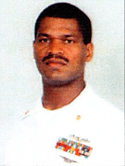 9/11 Pentagon Memorial Heroes
ITC Donald M. Young, USN
Born September 21, 1959, 41 years old
Donald McArthur Young, 41, Chief of Naval Operations Information Systems Technician, departed his life on that fatal morning of September 11, 2001, while performing his assigned duties at the Pentagon, one week before his 42nd birthday. He lived in Virginia Beach, Virginia, but was on special detail in nearby Arlington, Virginia. He died while performing his lifelong passion for the military and knew by enlisting to fight for his country he had to be willing to give his life for his country.
Donald, a veteran of the Persian Gulf War, has received numerous medals. Some of his meritorious awards include: Atlantic Fleet Sailor of the Year, Enlisted Surface Warfare Specialist, Enlisted Aviation Warfare Specialist, Navy and Marine Corps Commendation Medal, Navy and Marine Corps Achievement Medal (three), National Defense Service Medal, Southwest Asia Service Medal, Sea Service Deployment Ribbon, Navy Unit Commendation, Good Conduct Medal (two), Coast Guard Meritorious Unit Commendation (two), and Meritorious Unit Commendation.
Donald was a loving husband, son and brother, and concerned about all of his family. Whenever his mother was ill, he was there caring for her. He was a person who considered the safety and well being of others first; putting himself last. Donald was a very quiet but compassionate person who would do anything for his fellow man, his teammates and his family.
Before entering the Navy, Donald attended William Fleming High School in Roanoke, Virginia, where he played football. He later received a scholarship to attend North Carolina A&T State University in Greensboro, North Carolina. His football coach at Fleming recently stated that, "I know the efforts Donald put into his academics and his athletics is the same effort he put into his life as a military man." In his spare time Donald enjoyed toying around with his computer, watching movies, and playing sports.
His beloved wife, Felicia Young, to whom he was devoted for 14 years, survives Donald in death. Felicia was very understanding of her husband's dedication and supported him while he was at sea for long periods of time. His mother, Martha Y. Peoples, is deceased. Donald also leaves to cherish his memory five sisters, Addrene Y. Cheshier, Loretta Young, Alice Y. Macklin, Valerie Y. Kirby and Deborah Y. Key; one brother, Edward M. Young; a goddaughter, Damiani Cansler; five brothers-in-law and two sisters-in-law; and a host of uncles, aunts, cousins, nieces and nephews. He also leaves a mother and father-in-law, Mr. and Mrs. James Poole of Mount Vernon, New York. Donald is a direct descendent of "The Hairstons" from the book, The Hairstons: An American Family in Black and White.
Although his life was tragically taken away, the leadership and compassion that Donald McArthur Young displayed to friends, co-workers and his family will continue to live on in the memories he has left behind
9/11 Pentagon Memorial Heroes
Meet the Heroes
The Pentagon Memorial was created to remember and honor those family members and friends who are no longer with us because of the events of September 11th, 2001 at the Pentagon.