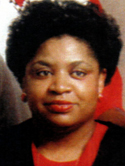 9/11 Pentagon Memorial Heroes
Janice M. Scott
Born October 12, 1954, 46 years old
Janice Marie Scott was born on October 12, 1954 in Memphis, Tennessee. In 1955, her mother moved the family to Milwaukee, Wisconsin, where she attended the local public school until her early teen years. Janice then moved with her family in the early 1970s to Colorado Springs, Colorado. There, she graduated from Harrison High School on May 28, 1972. Demonstrating a selfless commitment to her family shortly after graduation, she took on the task of caring for her youngest sister, Darlene, as well as her oldest sister's (Claudette) daughter, Gail, during Claudette's overseas assignment tour in Germany.
In 1975, Janice met Abraham Scott, a native of Beaufort, South Carolina, who was assigned as a 2nd Lieutenant to the 4th Finance Company on Fort Carson adjacent to Colorado Springs, Colorado. Janice and Abraham were married in Beaufort, South Carolina on December 27, 1976. Two years later, the couple was blessed with the birth of their first child, Crystal.
In December 1978, the family moved to Fort Benjamin Harrison, where Janice began to embark upon her career with Indiana National Bank in downtown Indianapolis, Indiana. Janice and Crystal then moved with Abraham to Fort Rucker, Alabama in July 1979. Her career was temporarily placed on hold, however, while she continued her education at Enterprise State Junior College in Enterprise, Alabama, where she received an Associate degree in Business Administration.
In August 1982, the family moved to Heidelberg, Germany, where Janice took courses at the Heidelberg campus of the University of Maryland. She also continued her career initially with the local credit union. She entered the Federal Government workforce as a check control officer with Army Finance Office in Switzingen, then as an accountant with the European Army Accounting Office in Leiman, Germany.
During the mid-1980s, the family moved to the greater metropolitan area of Washington, DC, where Angel entered their lives. It did not take Janice long to re-enter the government workforce. The Army Personnel Command in Alexandria, Virginia hired her in 1987 as an assistant budget officer. She also continued to further her education by taking night and weekend classes at the University of Maryland in College Park, Maryland. She graduated on December 23, 1988, with a Bachelor of Science degree in Business Administration. This great achievement was instrumental in helping her to acquire a Budget Officer position in 1989 with Resource Services Washington of the Office of Assistant Administration in the Pentagon. Janice was promoted in June 2001, as a Budget Team Leader with Resource Services Washington. She was employed by this organization when the tragedy occurred on September 11, 2001. She was only a few credits shy of becoming a Certified Government Financial Manager, the government's equivalent to a Certified Public Accountant.
Janice's commitment to children, her community and her personal growth led to her involvement in a number of organizations. She was a member of Blacks in Government, 5-Star Toastmasters Club, Association of Government Accountants, and the Burke-Fairfax Chapter of Jack and Jill of America, Incorporated, where she held the positions of Historian, Program Director and Vice President. She was also a member of Greater Little Zion Baptist Church in Fairfax, Virginia. The Janice M. Scott Memorial Scholarship Fund was established in October 2001 to honor Janice Marie Scott's (nee: Holmes) legacy as an advocate for youth and a tremendous supporter of community services within the Greater Metropolitan Area of Washington, DC.
9/11 Pentagon Memorial Heroes
Meet the Heroes
The Pentagon Memorial was created to remember and honor those family members and friends who are no longer with us because of the events of September 11th, 2001 at the Pentagon.