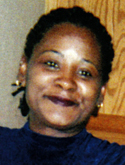 9/11 Pentagon Memorial Heroes
Judy Rowlett
Born May 8, 1957, 44 years old
Born May 8, 1957 in Tome Green County, Texas, Judy Rowlett grew to be a dedicated civil servant, never resisting a challenge and always doing her best at everything she touched.
Judy was reared in San Angelo, Texas and entered federal service in 1986. She worked in a wide variety of positions prior to beginning work as a transportation assistant with the Defense Resources Activity Washington. Her co-workers widely respected her specialized organizational skills and attention to detail.
Friends and family remember her as a truly phenomenal woman, with the ability to touch in many ways unseen. Many times she blessed us with an uninhibited love and respect that is very rarely matched. Co-workers speak of her resilience, her ability to live life to the fullest, and the example she set for them to do the same. Judy's daughters know her as a true role model for all people, with the same resilience to rise to any challenge and overcome it. She showed all who knew her how to rise to their full potential.
She is survived by her two daughters, Trisha McCants of San Angelo, Texas and Sicely McCants of Alexandria, Virginia; grandchildren, Neanta McCants, Ahdonis Ross and Julius Ross; mother, Shirley Ann Smith; father, Glisper Smith; and many loving family members and friends.
9/11 Pentagon Memorial Heroes
Meet the Heroes
The Pentagon Memorial was created to remember and honor those family members and friends who are no longer with us because of the events of September 11th, 2001 at the Pentagon.