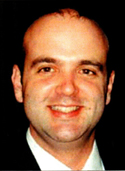 9/11 Pentagon Memorial Heroes
LT Michael S. Lamana, USN
Born July 6, 1970, 31 years old
Michael "Scott" Lamana, 31, a Navy lieutenant and flight officer, rarely rested. 
By day, he helped monitor the operations of the Navy's global fleet from his post in the Pentagon's Navy Command Center. 
By night, he attended classes at the University of Maryland – he expected to receive his MBA in December. In between, he worked out with friends in the Pentagon's gym or helped friends with projects at work or home. 
"He loved his job. He loved the military," said his father, Jay "Mike" Lamana, who kept vigil with other family members this week at his son's house in Alexandria after the attack on September 11th. 
The family received a visit from Navy officers who said Michael Lamana was among those missing after the attack on the Pentagon. 
"We don't know anything," said Lamana's wife, Lorna. 
"We just keep saying, 'He was a good man, a good Navy man.' " 
Lamana, one of three siblings, grew up in Baton Rouge, Louisiana, and graduated from Louisiana State University in Baton Rouge in 1992. He attended naval flight training school in Pensacola, Florida in 1993-1994. While in Florida, he completed MBA preparatory courses at the University of West Florida. 
His family's Navy tradition includes a World War II veteran and a Navy SEAL. 
Armed with his MBA, Lamana hoped to enter a new phase. "He was just getting into a good part of his life," his father said. "Everything was just going really well for him."
9/11 Pentagon Memorial Heroes
Meet the Heroes
The Pentagon Memorial was created to remember and honor those family members and friends who are no longer with us because of the events of September 11th, 2001 at the Pentagon.