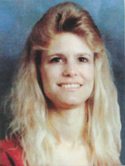 9/11 Pentagon Memorial Heroes
Molly L. McKenzie
Born April 8, 1963, 38 years old
Molly L. McKenzie, a budget analyst and 14-year Department of the Army civilian, was a very dedicated mother who would do anything for her two daughters, Lea, 13, and Alana, 11. She enjoyed riding bikes with them, planning their birthday parties, and always hoped to spark in them the enjoyment she received from playing the piano. She prayed for them constantly. 
Lea and Alana wrote this in her memory:  Our mother was very nice. She would do anything for us. She would take us places like shopping, the movies, and places to eat. She loved to draw and read books. She liked to read the Bible. She liked to run and sometimes we ran with her. If we had a problem, she would always help us. She was not only our mother, she was our friend. She loved her work, but we came first – then came work. She also loved to work in the yard outside the house. She also loved animals. She loved to do our homework with us. We will always remember you and love you Mommy. 
In July 1999, Molly remembered spending time with her father, a World War II veteran, tilling the ground and planting seeds when she was five. Her father worked very hard to support his family, making sure there was food on the table, clothes to wear, money for college, and spiritual support. He took great joy and pride in each of his children's accomplishments. He sacrificed many things that he personally could have done for himself. Molly has also mentioned thankfulness for her mother who leads a steadfast Christian life. 
Born April 8, 1963 in Ephrata, Pennsylvania, Molly attended school in the Cocalico School District in Denver, Pennsylvania, and graduated from high school in the Mount Vernon School District in Mount Vernon, Ohio. In 1985, she earned her Bachelor of Science degree in Business Administration from Mount Vernon Nazarene College. 
While a student at Cocalico, Molly played the clarinet in the school band, sang in the chorus, and portrayed the lead actress in "Li'l Abner" in her class play. Her friends knew her as a beautiful person, not just in her remarkably good looks, but also in her heart. She had a quiet disposition and a smile that would light up a room. Her first grade teacher, Sharon Althouse, remembers her as being a quiet and bright student. 
Molly had an inner beauty; she spoke little, but loved much. I believe if she were still with us today, she would say, 'Never lose sight of what we're really here for – serving and trusting in God, even when life doesn't make sense.' She will be deeply missed, but always remembered by our family. 
She is survived by her daughters, Lea and Alana McKenzie of Dale City, Virginia; her former husband, Shane McKenzie of Dale City, Virginia; her mother, Elizabeth Hornberger of Mount Vernon, Ohio; her brothers, Larry and Kenny, and her sisters, Judy and Sally, all of Pennsylvania.
9/11 Pentagon Memorial Heroes
Meet the Heroes
The Pentagon Memorial was created to remember and honor those family members and friends who are no longer with us because of the events of September 11th, 2001 at the Pentagon.