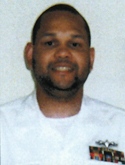 9/11 Pentagon Memorial Heroes
Julian T. Cooper
Julian Theodore Cooper, known as 'Coop' to some, was born in Washington, DC on April 20, 1962. He departed this life on Tuesday, September 11, 2001.
Julian graduated from Bladensburg High School and went on to attend the University of Maryland for a brief period. He left college to join the U.S. Navy, where he served on active duty for 13 years. Currently, Julian was a Navy Reservist. He was employed by Litton PRC as a Senior Computer Analyst and had worked full time in the U.S. Navy Command Center at the Pentagon for the last five years.
Julian attended Hughes Memorial United Methodist Church throughout his childhood and was baptized here at Hughes Memorial before departing for his military duties abroad. Julian met Melinda S. Washington in February 1995. They were married in New Jersey in September 1997. Their first child is expected in March 2002.
Anyone who knew Julian would agree that he was a gentle, sweet soul. His dry sense of humor and mischievous smile would get you every time. Julian was a loving person, always willing to help those around him. He was a great mentor and example to many of his family members. Julian was a loving, devoted husband, a protective son, and supportive brother. He was an honest man who stood up for what he believed. Never wavering, never faltering, he was respected by all that knew him. Julian simply loved life and lived it to the fullest. His favorite saying was "Yesterday is history, tomorrow is the future, but today is the present so cherish it and enjoy."
Julian leaves to cherish his memory: his wife, Melinda S. Cooper; his daughter, Julianah Marie Cooper; and his mother, Rose Marie Cooper.
On that fateful day of September 11, 2001, we truly lost a great individual, a great spirit. Julian was a true American, a true patriot. Few words can express how much he meant and no apt words can express how much he will be missed. Truly . . . gone to soon.
9/11 Pentagon Memorial Heroes
Meet the Heroes
The Pentagon Memorial was created to remember and honor those family members and friends who are no longer with us because of the events of September 11th, 2001 at the Pentagon.