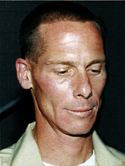 9/11 Pentagon Memorial Heroes
ITC Gregg H. Smallwood, USN
Born July 30, 1957, 44 years old
Gregg H. Smallwood served 19 years in the United States Navy, reaching the rank of Chief Petty Officer in 2000, in his Pentagon post at the Office of the Chief Information Systems Technician. His career in the United States Navy included the following duty stations: U.S.S. Henry B. Wilson (DDG 7), November 1976 to May 1977; Naval Air Station Kingsville, Texas, September 1977 to September 1979; Navy Communications Area Master Station, WESTPAC Guam, October 1979 to October 1981; U.S.S. Reasoner, April 1988 to January 1992; Naval Computer Telecommunications Station, San Diego, California, February 1992 to September 1994; Naval Air Station North Island, California, September 1994 to January 1995; Naval Computer Telecommunications Station, Diego Garcia, April 1995 to May 1996; U.S.S. Harry W. Hill (DD 986), July 1996 to March 1998; and Chief of Naval Operations, Washington, DC, July 1998 to September 2001.
Mr. Smallwood achieved the following awards and decorations in his military career: Navy and Marine Corps Achievement Medal (three), Navy Unit Commendation, Meritorious Unit Commendation, Armed Forces Expeditionary Medal (three), Sea Service Deployment Ribbon (two), Good Conduct Medal (three), Kuwait Liberation Medal, Navy and Marine Corps Overseas Ribbon, National Defense Service Medal, Southwest Asia Service Medal and Navy "E" Award.
Mr. Smallwood was married January 25, 1979 to Lisa A. Titus of Albuquerque, New Mexico, and is survived by his wife, Lisa Smallwood; daughters, Wendy Smallwood, age 19, Lynn Smallwood, age 17, and Valerie Smallwood, age 16, all of Woodbridge, Virginia; parents, Harold and Florence Smallwood of Overland Park, Kansas; and sister, Dr. Laura J. Smallwood of Stone Mountain, Georgia.
9/11 Pentagon Memorial Heroes
Meet the Heroes
The Pentagon Memorial was created to remember and honor those family members and friends who are no longer with us because of the events of September 11th, 2001 at the Pentagon.