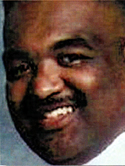 9/11 Pentagon Memorial Heroes
LCDR Otis V. Tolbert, USN
LCDR "Vince" Tolbert was born in Tennessee in September 1962. Following his very successful athletic performance at Lemoore High School, he was awarded a football scholarship to Fresno State University. Graduating from Fresno State in 1985 with a degree in Criminal Justice, he was commissioned an Ensign at Officer's Candidate School in Newport, Rhode Island in 1989.
Following completion of Surface Warfare Officer Training, LCDR Tolbert reported to U.S.S. Niagra Falls (AFS-3), and later deployed from Guam in support of Operation Desert Storm in 1991. LCDR Tolbert then reported to his shore assignment at the Navy and Marine Corps Reserve Readiness Center in San Diego, California. While there, LCDR Tolbert was awarded a lateral transfer to Naval Intelligence in December 1993.
After his 1994 graduation from the Navy and Marine Corps Intelligence Training Center in Dam Neck, Virginia, LCDR Tolbert returned to sea and reported to U.S.S. Constellation (CV-64) at NAS North Island, California. He again deployed to the Arabian Gulf in support of Operation Southern Watch and served as Intelligence Division Officer and later was selected for Assistant Intelligence Officer as a Lieutenant, an assignment typically held by Lieutenant Commanders and above.
LCDR Tolbert reported to U.S. Central Command (CENTCOM) Headquarters at MacDill Air Force Base, Tampa, Florida in November 1996. As a leader in the Joint Intelligence Center's Collection Management division, LCDR Tolbert directly supported numerous CENTCOM-led crisis and contingency operations in Iraq and Afghanistan, and also executed many sensitive targeting and collection missions in support of Operations Desert Fox and Southern Watch.
In April 2000, LCDR Tolbert reported for duty in Suitland, Maryland at the Office of Naval Intelligence and held key leadership positions in the Warfare Operations and Tactics Department (ONI-26). Following his initial year at the National Maritime Intelligence Center, LCDR Tolbert was hand-picked to serve in the Pentagon on the Chief of Naval Operations Intelligence Plot staff, and was Assistant Officer in Charge when the Pentagon was attacked by terrorists on 11 September 2001.
LCDR Tolbert's personal decorations include the Purple Heart, Defense Meritorious Service Medal, Meritorious Service Medal, Joint Service Commendation Medal, Navy and Marine Corps Commendation Medal, Joint Service Achievement Medal, Navy and Marine Corps Achievement Medal, and various unit and campaign awards. He is survived by his wife, Shari, in their 12th year of marriage, and their three children, Amanda, 9, Brittany, 7, and 20-month-old Anthony. Also surviving are his parents, Otis ("Butch") and Nancy Tolbert of Brentwood, Tennessee; in addition to his brothers, Daniel and Chris, both currently residing in the Central Valley area of California.
9/11 Pentagon Memorial Heroes
Meet the Heroes
The Pentagon Memorial was created to remember and honor those family members and friends who are no longer with us because of the events of September 11th, 2001 at the Pentagon.