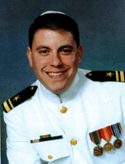 9/11 Pentagon Memorial Heroes
LT Darin H. Pontell, USNR
Born August 24, 1975, 26 years old
Lieutenant Darin Howard Pontell, a 26-year-old native of Columbia, Maryland, was finishing his 12-hour shift when terrorists attacked the Pentagon. 
"Darin was 'one of those people who you hope to run across in life,' " said his wife, Devora. "He was thoughtful and generous and wanted to make everyone around him happy. He would do whatever it took to make his family and friends smile." 
A dedicated officer, Darin was determined to serve his country. He received his commission upon graduation from the U.S. Naval Academy in 1998. Designated as an intelligence officer, he reported to the Navy and Marine Corps Intelligence Training Command in Dam Neck, Virginia. 
After completing his training, he received orders to Carrier Air Wing Seven as the Collections Officer. Stationed in Norfolk, Virginia, he deployed to the Mediterranean Sea and the Persian Gulf aboard the U.S.S. Dwight D. Eisenhower. While deployed, Darin assisted in strike planning and was responsible for providing reliable intelligence information to the pilots carrying out dangerous missions. 
In his naval career, he received the Armed Forces Expeditionary Medal, the Naval Commendation Medal, the Navy Achievement Medal, and the National Defense Service Medal. He was posthumously awarded the Purple Heart Medal. 
In his 26 short years, he could always be relied on to bring a warm, infectious smile that would brighten any room. Married to Devora Sue Wolk of Highland, Maryland in March 2001, the couple resided in Gaithersburg, Maryland. In addition to his wife, he is survived by his parents, Gary and Marilyn Pontell of Columbia, Maryland; his brother, Michael Pontell of Brookeville, Maryland; and his grandparents, Louis Pontell of Columbia, Maryland and Lillian Makoroff of Cleveland, Ohio. His oldest brother, Ensign Steven Pontell, was killed in a plane accident in 1989.
9/11 Pentagon Memorial Heroes
Meet the Heroes
The Pentagon Memorial was created to remember and honor those family members and friends who are no longer with us because of the events of September 11th, 2001 at the Pentagon.