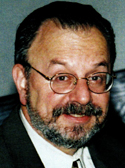 9/11 Pentagon Memorial Heroes
Gerald P. Fisher
Born March 28, 1944, 57 years old
Fourteen-year Booz, Allen & Hamilton consultant Gerald P. Fisher, 57, had such a winning way about him that colleagues refused to give up on him until his death at the Pentagon was confirmed.
"He was a real optimist," said Joyce Doria, a Booz, Allen senior vice president who supervised Fisher and two other employees who died. The three had gone to the Pentagon to brief LTG Timothy J. Maude, the Army's Deputy Chief of Staff for Personnel and another victim of the attack, on an improved system for survivor benefits for military employees.
Fisher, known to friends and co-workers by his childhood nickname, "Geep," worked on many projects during his years as a manpower specialist and principal with the firm, Doria said. "He would always find a way to work through the problems," she added.
"My son was a precious spirit, a special guy," said his mother, artist Muriel Fisher, 82, of San Diego. "He was the fulcrum of the family. He had a dry sense of humor and always came to the rescue. You were laughing before you were distraught."
"His circle of friends was so large that as many as 80 people turned out for his annual pre-Thanksgiving potluck dinners," said Christine Fisher, his wife of 17 years. Gerald Fisher started the event for single friends when he was newly divorced from his first wife, Bonnie Fisher, with whom he had a son, Jonathan Michael Fisher, 29, and a daughter, Serena Leigh Dugan, 28.
Fisher was born in New York City, grew up in Los Angeles and lived in Potomac. He earned a Bachelor's degree in Sociology/Psychology from San Francisco State University, a Masters in Social Work from CSUSacramento and a Masters in City Planning and Doctorate in Social Policy/Counseling from the University of Pennsylvania.
His 30-year career in government, academia and private industry included six years as an associate professor at the Universities of Texas and Wisconsin.
Friends said Fisher's recent conversations had turned to his son's wedding next week. On Sunday, September 16, 2001, a service was held at Tifereth Israel Congregation in NW Washington, DC, to celebrate his life.
9/11 Pentagon Memorial Heroes
Meet the Heroes
The Pentagon Memorial was created to remember and honor those family members and friends who are no longer with us because of the events of September 11th, 2001 at the Pentagon.