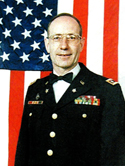 9/11 Pentagon Memorial Heroes
LTC Dean E. Mattson, USA
Born March 30, 1944, 57 years old
To employees and residents of the Belle Haven Towers apartments, Army LTC Dean Mattson was the guy who always had a smile and a friendly word. "He was just the very nicest, the very sweetest man," said Rewa Burnham, a marketing consultant at the high-rise complex in Alexandria. "Everyone is just heartbroken." 
Burnham said Mattson had lived in Belle Haven since about 1999. He lived alone and did not have family in the Washington area, she said. The Army listed Mattson's home as California. Burnham said Mattson was well liked and popular with the staff and residents at the complex. Like many residents, he would stop by the office bearing gifts and treats for the staff during the holidays. "He always thought of us," Burnham said. 
She said the management office was flooded with calls from residents inquiring about Mattson. His family called to tell complex staff that he was missing, she said. "We have a lot of residents who work at the Pentagon, so we were all kind of just sitting here waiting for the calls to come in… Just kind of taking inventory," Burnham said. 
"Anyone we didn't hear from, we were worried about. It's a miracle we didn't lose anyone else." 
Burnham said Mattson was always in uniform or wearing jogging clothes. She remembers that he was particularly enamored of her dog, Loki, a Jack Russell terrier-shepherd mix. "Loki is just this little thing, and he's such a tall man," she recalled. "Loki would bark and he'd say, 'Ah, there's the ferocious wolf.' " 
One day, Mattson saw Burnham carrying Loki and immediately became concerned. "He wanted to know if something was wrong with him… if he was okay," she said.
9/11 Pentagon Memorial Heroes
Meet the Heroes
The Pentagon Memorial was created to remember and honor those family members and friends who are no longer with us because of the events of September 11th, 2001 at the Pentagon.