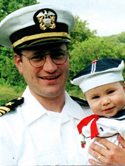 9/11 Pentagon Memorial Heroes
LCDR Ronald J. Vauk, USNR
Born January 25, 1964, 37 years old
Ronald James Vauk, 37, Lieutenant Commander, U.S. Naval Reserve, a resident of Mount Airy, Maryland, died September 11, 2001 at the hands of terrorists as he was performing his duty as Watch Commander in the Naval Command Center at the Pentagon.
Ron was born January 25, 1964 in Nampa, Idaho; the youngest of the nine children of Dorothy and Hubert (Cubby) Vauk. He attended St. Paul's Catholic School and Nampa High School, graduating in 1982. He earned an appointment to the United States Naval Academy, graduating with a commission and a B.S. in Political Science in 1987. After nuclear power school training, Ron served on the submarines U.S.S. Glenard P. Lipscomb and the U.S.S. Oklahome City, attaining the rank of Lieutenant Commander. He left active duty for the Naval Reserve in 1993. He was serving the second day of his annual reserve duty at the Pentagon when the terrorists' plane hit.
Ron worked for several years as a project manager at Delex Systems and RSIS, Inc., before joining the submarine technology department of the Johns Hopkins University Applied Physics Laboratory outside Columbia, Maryland. While there he earned a Master's degree in Business from the University of Maryland (1999), and rose quickly to become an assistant group supervisor and task leader for a number of diverse projects.
The love of Ron's life is his devoted wife, Jennifer (née Mooney), whom he met while at the U.S. Naval Academy. They were married on August 29, 1987. Ron and Jennifer's pride and joy are their children: a son, Liam, born October 14, 1997, and a daughter, Meaghan, born November 7, 2001, two months after the attack.
Although Ron's civilian and military activities and schedules were often demanding, he always found time to devote to his Idaho family, extended family in Baltimore, and friends. He was truly respected by all as a devoted husband and father. He would make it a priority to take his family back to Idaho, at least yearly, to visit with his parents and siblings. In Baltimore, his wife's family – parents, Carol (née Manning) and Pat Mooney; sister, Alissa; and brother-in-law, Chris DeBoy; and niece, Saoirse – were part of regular weekly gatherings for Sunday meals and social activities. Ron was like a brother and was close with all of the Manning and Mooney families in and around Baltimore.
Just before his tour of duty at the Pentagon, Ron was with Jennifer and Liam and family and friends at the beach in Fenwick Island, Maryland. He enjoyed taking his son to play in the sand and on rides at the amusement park. He even found rare time for one round of golf with family and friends. Ron's leisure activities were usually spent honing his skills with woodworking. He recently completed the basement level of his home in Mount Airy. Friends and family raved about how he has transformed the area into a warm and cozy family room and bedroom with large closets and bath.
Ron is also survived by his siblings: Charles Vauk of Boise, Idaho; Teri and Bill Masterson of Carson City, Nevada; Celia and Ken Shikuma of Huntington Beach, California; David and Suzie Vauk of Nampa, Idaho; Lynn and Alan Caba of Nampa, Idaho; Cary and Julie Vauk of Grapevine, Texas; Patricia Vauk and Paul Wilson of Minneapolis, Minnesota; Dennis and Donna Vauk of Houston, Texas; and 18 nieces and nephews.
9/11 Pentagon Memorial Heroes
Meet the Heroes
The Pentagon Memorial was created to remember and honor those family members and friends who are no longer with us because of the events of September 11th, 2001 at the Pentagon.