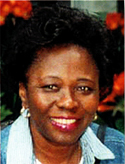 9/11 Pentagon Memorial Heroes
Hilda E. Taylor
Born March 30, 1943, 58 years old
Hilda E. Taylor, a passenger on American Airlines Flight 77, was a veteran teacher at M.V. Leckie Elementary School in Southwest Washington. She taught sixth grade and was on her way to California on a National Geographic field trip when the plane slammed into the Pentagon.
Taylor, who was born in Sierra Leone, lived with a grandson and two adult sons, Donald Stafford, 37, and Dennis Stafford, 36, in Forestville. A daughter, Octavia, 40, lives in Africa. Taylor, who was divorced, also had a brother in Bowie, and four grandchildren in Africa. Taylor came to the United States many years ago in search of a better life for herself and her children.
Her sons said their mother, a seasoned traveler and an accomplished cook, savored life. She received a Master's degree from the University of the District of Columbia. She loved the classroom, her students, and the thought that she was helping to develop young minds.
In her spare time, Taylor liked to romp with her eight-year-old grandson, Reinhardt Stafford, and tend to her garden. She loved to plan projects to capture her students' attention.
Linda Onwuka, a close friend, fought back tears as she spoke of Taylor's death.
"I'm angry," Onwuka said. "But it's in God's control. He's the one we all answer to."
9/11 Pentagon Memorial Heroes
Meet the Heroes
The Pentagon Memorial was created to remember and honor those family members and friends who are no longer with us because of the events of September 11th, 2001 at the Pentagon.