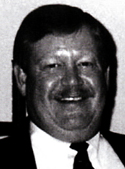 9/11 Pentagon Memorial Heroes
LTC Michael L. Selves, USA, Retired
Born September 16, 1947, 53 years old
Michael L. Selves and his wife, Gayle, were counting the days until he could retire from his job at the Pentagon. Next stop: the greens and fairways of Hilton Head Island, South Carolina.
Avid golfers, the couple married six years ago at the Fairfax National Golf Club in Centreville and planned a move to South Carolina next year.
"We have some very good friends down there. We were looking at real estate and making all of our plans," Gayle said through tears.
Over the course of a 20-year Army career, Selves served in South Korea and Italy, advancing to the rank of lieutenant colonel. In 1996, as a civilian, he became director of the Army's information management support center at the Pentagon.
His office was on the first floor of E Ring – the point where Flight 77, with terrorists at the controls, struck first. Near his desk were photos of the lakes and mountains close by his hometown of Pendleton, Oregon, colleagues said. A University of Oregon graduate, he was an ardent fan of the Ducks.
Friends and family said Selves was as skillful with jokes as he was with a putter, and he developed close friendships wherever he went. As word spread that he was missing in the Pentagon attack, friends he had known since grade school showered his wife with sympathy. Calls came in from around the world. His high school classmates sent flowers.
Feelings ran equally strong among those who had known him for only a few years. Selves generated such intense loyalty that most of those who worked for him and left his office were transferred unwillingly, colleagues said.
He knew how to liven up a boring meeting, they said. One co-worker recalled a stunt two years ago in which Selves, speaking at a seminar, slowly stripped down to his undershirt and a bathing suit.
Recalled his wife: "All of the people he worked with were just devastated because he was really loved. His sense of humor is probably what made him so special to everyone. He could make just about anyone laugh."
9/11 Pentagon Memorial Heroes
Meet the Heroes
The Pentagon Memorial was created to remember and honor those family members and friends who are no longer with us because of the events of September 11th, 2001 at the Pentagon.