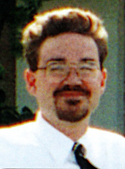 9/11 Pentagon Memorial Heroes
Edward V. Rowenhorst
Born April 19, 1969, 32 years old
One of Edward Veld Rowenhorst's favorite things to do was to take his 7-year-old daughter, Ashley, to his Pentagon office, whether it was for Take Our Daughters to Work Day or just to give his wife, Traci, a break at home.
He'd find an empty cubicle and give Ashley some crayons. One time, the two had a picnic lunch at the Washington Monument. The visits were part of the comfortable domestic routine embraced by Rowenhorst, 32, a civilian accountant for the Army.
"Ashley just loved going in," Traci Rowenhorst recounted from her Prince William County home as she planned her husband's memorial service. "Everyone in the office enjoyed kids. They were just a big family there."
The last time Ashley's dad took her to work with him, he brought her to Room 472, First Floor, E-Ring – the Pentagon's newly renovated section. Moving there was a victory for Rowenhorst and his colleagues, who had been told they might have to move to Crystal City.
Edward Rowenhorst grew up in Prince William County and interned at the Pentagon while in college. After graduating from George Mason University in 1992, with degrees in Accounting and Management Information Systems, he was hired at the Pentagon. The Rowenhorsts married in 1991 and settled in Lake Ridge. Three years ago, a second daughter, Kaitlyn, was born. Like many in Washington's outlying suburbs, Rowenhorst rose early to get to his desk on time.
"Every morning when he left for work he would kiss me on the forehead, whether I was awake or not," Traci Rowenhorst said. "And then after he got to work, I would call him. We'd talk about mundane things – How was traffic? What do you want for dinner?"
That routine didn't vary on September 11.
9/11 Pentagon Memorial Heroes
Meet the Heroes
The Pentagon Memorial was created to remember and honor those family members and friends who are no longer with us because of the events of September 11th, 2001 at the Pentagon.