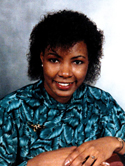 9/11 Pentagon Memorial Heroes
Diane Hale-McKinzy
Born December 21, 1962, 38 years old
Diane Hale-McKinzy was born Diane Eileen Watts on December 21, 1962 in Lithonia, Georgia to parents George and Irene Watts, both of whom are now deceased.
She spent her formative years attending the public schools and local churches in her hometown. She served in the military from January 1981 until September 1985, receiving numerous awards and commendations. After receiving an honorable discharge from the military, Diane started her career in civil service. She spent more than 20 years serving and working for her country.
On July 4, 1993, she was united in holy matrimony to Mr. Gary McKinzy. They each brought to their union a beautiful daughter, Miss Connie E. Hale and Miss Ebony C. McKinzy.
In the late 1980s, Diane gave her life to the Lord and joined Christian Hope Center Church. She was faithful, dedicated and devoted to God, her family and the church. On October 17, 1995, she was ordained as a deaconess in the church. In addition to her duties as a deaconess, she served as a dedicated usher and Sunday school teacher. She also supported the Nursing Home ministry and Street ministry. However, most notable were her skills as chief financial officer for Christian Hope Bible College and Believer's Academy. Her tireless efforts to excellence were a key force in the success of the college.
Diane Hale-McKinzy excelled in all she set out to do. She was an accomplished entrepreneur and thrived on the talent and creativity God had given her. She loved singing and drawing and spending time with her family. She touched the lives of many; precious memories will always remain in the hearts of her loved ones.
On Tuesday, September 11, 2001, she was called from her labor to her reward. Life ended for her on earth and began for her in heaven. She has gone to her mansion of rest to await the final resurrection of those who love the Lord.
She leaves to commemorate her life, her husband, Mr. Gary McKinzy of Alexandria, Virginia; one daughter, Connie E. Hale of Alexandria, Virginia, and one step-daughter, Ebony C. McKinzy of Jacksonville, Arkansas; two sisters, Miss Claudie Nash of Lithonia, Georgia, and Ms. Eunis Brittian of Riverdale, Georgia; four brothers, Mr. Ricky Watts of Riverdale, Georgia, Mr. Fredrick Leonard of Decatur, Georgia, Mr. Robert Leonard of Orlando Florida, and Mr. Curtis Leonard who is now deceased; sisters-in-law, Mrs. Linda Leonard of Decatur, Georgia, Mrs. Laceta Leonard of Orlando, Florida, Ms. Mattie Short of Chicago, Illinois, Ms. Phyllis McKinzy and Mrs. Mattie Smith of Milwaukee, Wisconsin, and Mrs. Mildred Brown, Mrs. Annie Roberts, Mrs. Sylvia Sanders, Mrs. Yance Gates, Ms. Sarah Fulton and Mrs. Alice Lindsey, all of Jacksonville, Arkansas; Mrs. Elizabeth Combs and Mrs. Yvonne Moten of North Little Rock, Arkansas; brothers-in-law, Mr. James Smith of Milwaukee, Wisconsin, and Mr. Willie Brown, Mr. Louis Roberts, Mr. Harry Sanders, Mr. Tracy Gates, and Mr. Jessie Lindsey, all of Jacksonville, Arkansas, Mr. Major Combs and Mr. Rosser Moten of North Little Rock, Arkansas; mother-in-law, Mrs. Sallie McKinzy of Jacksonville, Arkansas; fatherin- law, Mr. Lewis McKinzy of Cotton Plant, Arkansas; two grandchildren, Alexis James and Dejon James of Jacksonville, Arkansas; and a host of nieces, nephews, other relatives and friends.
9/11 Pentagon Memorial Heroes
Meet the Heroes
The Pentagon Memorial was created to remember and honor those family members and friends who are no longer with us because of the events of September 11th, 2001 at the Pentagon.