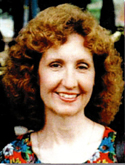 9/11 Pentagon Memorial Heroes
Marjorie C. Salamone
Born October 7, 1947, 53 years old
Marjorie Champion Salamone grew up on a dairy farm in Pine Mountain, Georgia. She excelled in school and graduated from high school at the age of 16. She earned her Bachelor's degree with honors in Textile Chemistry at Auburn University, as well as her Master's in Textile Science.
She was a person of deep character, unusual maturity and wisdom. She found great pleasure in other people's success and was happy to help others with anything she had. She was focused and self-disciplined but with a lighthearted, good-humored approach. She was a person with a great sense of responsibility and gentle compassion. She had a quick wit and delightful sense of humor. She was always willing to be inconvenienced for a friend, was a wonderful listener, and was genuine without a shred of unkindness.
She was a person with a deep faith in God and a family whom she loved, admired and respected, and for whom she felt deep gratitude. She was a person who never complained and freely gave of her time to insure that her husband and daughters were successful. She was an inspiration to all that knew her and she will be truly missed by her loved ones.
At age eight, Marjorie Champion started driving the hay truck for her father in Pine Mountain, Georgia. At 16, she headed off to college, where she taught her roommate statistics and fell in love with Ben Salamone, her future husband. At 53, just one week before September 11th, Marjorie helped their daughter, Amanda, move out on her own to New York.
Tuesday morning, Amanda, 22, called her mother's Pentagon office. Through her Manhattan window, Amanda saw the attack on the World Trade Center towers. Salamone comforted her, then left a message on her husband's voice mail: Amanda is safe.
"She was always thinking of us," said Ben Salamone, 55, who at the time was giving a briefing at the Department of Agriculture. That was the last time he heard Marjorie's voice. "She was judged quickly. Now, she's in heaven with the Lord," he said. It was fitting that her family was on her mind at the end. She and Ben, a retired Army colonel and veterinarian, had been married for 31 years after meeting in an organic chemistry class at Auburn University. She was devoted to her daughters, Amanda and Ann Marie, 24, and was a constant presence at their schools when they were growing up.
"My wife was a very loving person, and I sincerely miss her," said Dr. Salamone, "I saved all the letters, cards and notes she ever wrote me. One day, I'll let my daughters see them." For the past ten years, Marjorie and Ben, who retired from the military a year ago, lived in Springfield, Virginia, and she commuted to the Pentagon.
Marjorie would often carpool with other Springfield residents headed to the Pentagon, where she was an Army budget analyst. Her husband recalled, "A neighbor came by and said, 'Your wife was a wonderful slug,' " using the jargon for carpooling commuters.
Marjorie was also a take-charge person. When a neighbor's basement flooded, she tracked down the water main and cranked off the flow. After a big freeze, she went door to door helping neighbors relight pilot lights. She was set to help her dad harvest the family's 120 pecan trees.
When her mother wanted a new carpet, Marjorie navigated a dump truck to the mill store to pick it up. Somebody hit the wrong lever, nearly dumping the load on the road home. "We sat there, and we laughed," recalled Salamone's mother, Lillian Champion, 78. Then they finished the job. "We took everything out of the living room and stretched it out," she said.
Friends of Amanda and Ann Marie said she always looked out for them, too. "I needed a comforter. She went and bought one for me," said Maire Soosaar, 23, whose own mother had passed away. "She told Amanda she wanted to do everything she could for me," Soosaar said, "because no one shouldn't have a mom."
9/11 Pentagon Memorial Heroes
Meet the Heroes
The Pentagon Memorial was created to remember and honor those family members and friends who are no longer with us because of the events of September 11th, 2001 at the Pentagon.