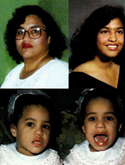 9/11 Pentagon Memorial Heroes
Samantha L. Lightbourn-Allen
Born November 13, 1964, 36 years old
Samantha Lightbourn-Allen was born to Raymond and Rebecca Lightbourn on November 13, 1964, at 12:47 p.m., the second of identical twins. As a child, her twin, Rennea, nicknamed her "Sennea," and her father calls her "Sennetha." 
As a child and through adulthood, she loved Disney World and amusement parks, and was always full of life telling jokes. She loved being with her twin and younger brother, Raymond. Samantha was an outgoing person who made friends easily everywhere she went. 
Samantha, a 1982 graduate of Suitland High School, graduated in the top five percent of her class. She continued her education at Prince George's Community College with a major in Business Administration. 
Her first government job was with the Department of Commerce in 1981, until her organization moved to the Department of Transportation. In 1982, Samantha worked for the Army Civilian Personnel Office at the Pentagon. She left the Pentagon to go to Fort Riley, Kansas, where her son, John E. Allen, Jr., was born on June 20, 1985. Samantha arrived in Augsburg, Germany in 1987 and worked for the Army at Sheridan Kaserne until her daughter, Samantha Brittnie Allen, was born on December 25, 1988. 
Upon returning to the United States in 1990, Samantha worked at Fort Lewis in Tacoma, Washington. She came home to Maryland in 1992 and worked at the Hoffman Building, after which she pursued her career as a Budget Analyst for the Department of the Army at the Pentagon until September 11, 2001. Samantha always thought the government was most beneficial for her career. She wanted to follow in her father's footsteps by retiring from the government, as her father had before her. 
She recently went on a business trip for the Army to Miami, Florida. Afterwards, she enjoyed a week of vacation with her children in Key West, Florida, visiting with her brothers and sisters. Her trip home included a day at Disney World with her children and a visit with her younger brother, Raymond, and his family at their resort. She spent some time during the Labor Day weekend with family and friends for a leisurely get together. 
Samantha was a devout Christian who loved family and church, sang in the church choir, and was involved with church activities that included her children, such as the Girl Scouts and multimedia. Samantha also enjoyed playing and teasing her brother's children, who also liked to tease her as well. 
She returned to work only four days before the attack on the Pentagon. She was currently pursuing her Associate of Arts degree in Business Administration at the time of the tragic event of September 11th.
9/11 Pentagon Memorial Heroes
Meet the Heroes
The Pentagon Memorial was created to remember and honor those family members and friends who are no longer with us because of the events of September 11th, 2001 at the Pentagon.