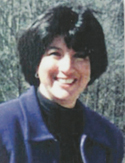 9/11 Pentagon Memorial Heroes
Dora Marie Menchaca
Born June 6, 1956, 45 years old
Dora Menchaca would not have been aboard the American Airlines jet that slammed into the Pentagon Tuesday if not for her passion to cure deadly diseases and save lives.
The 45-year-old mother of two had worked at Amgen's Thousand Oaks headquarters since 1991, helping to develop new and better drugs to battle cancer and pneumonia.
Now, her work as a scientist and mother will never be completed.
On Wednesday, September 12th, while many Americans talked of revenge, Menchaca's husband, Earl Dorsey, instead worried about how he would tell his four-year-old son that Mom was not coming home.
"It's going to be really tough. She lost her life at such a young age, and she won't get a chance to see her little boy grow up," Dorsey said. "I'm saddened that we live in a world where people have to be subjected to this kind of violence."
Menchaca had left for Washington, DC on Sunday, September 9, for two days of meetings with Food and Drug Administration regulators on the development of a new prostate cancer drug. The meetings ended late Monday the 10th, a day earlier than expected, so Menchaca boarded Flight 77 in Washington on September 11th for an early return to her husband and son at their Santa Monica home.
It was 5:00 a.m. California time, and she did not want to wake her son, Jaryd, who slept with his father when she was on the road. "We made an arrangement that she would leave a message on my cell phone saying she'd left, instead of calling here," Dorsey said.
But Dorsey's telephone would ring early anyway that Tuesday. Knowing Menchaca was in Washington, her worried relatives in San Antonio, Texas called Dorsey, asking him if he knew where she was.
Like millions of others, Dorsey got up and watched in disbelief the images of two jetliners slamming into New York's World Trade Center. "My first reaction was to think of my friends in New York," said the Chicago native. "I was worried about their safety."
It was only later that Dorsey learned a third jet had smashed into the Pentagon. Worried that his wife might have been aboard, Dorsey called American Airlines to ask about Flight 77 and his wife. He was relieved when airline officials told him they had no information about the flight or his wife.
But the hours passed, and still there was no word from his wife. So Dorsey logged onto the internet and saw his wife's name among the list of passengers on Flight 77. He later learned it was one of the planes hijacked by terrorists.
Dorsey had met Menchaca in 1981 while both were in graduate school at UCLA. He was pursuing a Master's degree in Public Health; she was working on a Doctorate in Epidemiology. "I was attracted to her warmth and her great sense of humor," Dorsey said. "She was just a very fun person, a very generous person."
The couple would eventually have two children, including Imani Dorsey, a star soccer player and 18-year-old sophomore at the University of Portland. Because all commercial flights in the United States were grounded after Tuesday's attacks, university officials arranged to have her driven by car from Portland to Santa Monica.
Whether as a scientist, friend, wife or mother, Menchaca was adamant about the importance of getting regular health-care checkups, especially for such things as prostate cancer, Dorsey said. In fact, he would not be alive today if not for his wife urging him to get a checkup.
"When I went to the doctor, they found I had prostate cancer," he said. "Fortunately, it was in the early stages, and they were able to cure it."
Menchaca's Thousand Oaks co-workers also remembered her persistence and caring.
"She could be maternal at times toward her co-workers," said David Goodkin, vice president of clinical research at Amgen. "She would always pester us about getting our check-up for prostate cancer."
MaryAnn Foote, a clinical scientist at Amgen and close friend to Menchaca, said Menchaca was proud of her Mexican-American heritage. "She would visit schools and encourage the girls, especially the minorities, to pursue a career in science.
"She was also unbelievably full of life," Foote said.
Another co-worker, Dee Hoskins, said Menchaca "was a vibrant human being, humanly involved. She was intensely committed to saving patients' lives."
"Today we mourn the loss of our colleague and friend," said an Amgen memo sent out September 12th. "Her passion and belief in doing whatever it takes to help patients and advance science will have a lasting impact."
9/11 Pentagon Memorial Heroes
Meet the Heroes
The Pentagon Memorial was created to remember and honor those family members and friends who are no longer with us because of the events of September 11th, 2001 at the Pentagon.