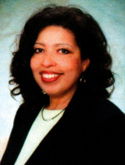 9/11 Pentagon Memorial Heroes
Norma Cruz Khan
Born April 23, 1956, 45 years old
Our beloved Norma was the devoted mother of Imran A. Khan, age 13. An inseparable team, Imran and his mother were side by side at every turn. Norma's unrelenting focus on creating the best possible life and future for her son was truly an inspiration to others. Through Imran's eyes, Norma was his playmate, confidante, role model and best friend.
To her family, she was the shining star that brought them together. She was their bringer of support, encouragement, hope and faith. She was their light when life looked dim. Her contagious laugh, bright smile, and zest for life illuminated every room she entered, and brought joy to every person she met. She loved her friends with a generous and unbiased heart. She touched the lives of so many, as a friend, a leader, a men- tor, and an energetic contributor in her community.
Embraced as an angel by everyone she knew, she is missed and cherished, and is now embraced by God.
9/11 Pentagon Memorial Heroes
Meet the Heroes
The Pentagon Memorial was created to remember and honor those family members and friends who are no longer with us because of the events of September 11th, 2001 at the Pentagon.