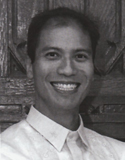 9/11 Pentagon Memorial Heroes
Ruben S. Ornedo
Born October 15, 1961, 39 years old
Ruben S. Ornedo was a loving husband, father-to-be, son, brother, uncle, nephew, cousin, son-in-law, brotherin- law, co-worker and friend. He was an easy-going, pleasant guy with a genuinely lovely smile, who was helpful and always concerned about others.
He loved nature, the outdoors, world travel and home renovation. Ruben married the love of his life, Sheila, in June 2001 at St. Brendan's Catholic Church in Los Angeles. They are expecting a baby girl early next year.
At Boeing Satellite Systems in El Segundo, California, Ruben was affectionately known as "Ornedo the Tornado" for his hard work, diligence and quick action as a lead engineer in the satellite systems engineering organization. His intelligence, enthusiasm, dedication, versatility and integrity were evident in all that he did. For more than 15 years at Hughes and Boeing.
Ruben played a key role in many projects that were of vital importance to the defense and security of our Nation. Ruben graduated from Hobart Elementary School, Berendo Junior High School, and Fairfax High School in Los Angeles. He earned a Computer Engineering degree from UCLA in December 1984.
On September 11, 2001, Ruben boarded American Airlines Flight 77 from Dulles Airport to LAX to make a quick trip home from an extended Washington, DC business trip, and spend some precious time with his lovely and beloved pregnant wife, Sheila.
9/11 Pentagon Memorial Heroes
Meet the Heroes
The Pentagon Memorial was created to remember and honor those family members and friends who are no longer with us because of the events of September 11th, 2001 at the Pentagon.