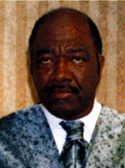 9/11 Pentagon Memorial Heroes
SSG Jimmie I. Holley, USA, Retired
Born August 1, 1947, 54 years old
Born August 1, 1947, Jimmie Holley was educated at J.D. Thompson High School in Alexandria City, Alabama. He began his military career in 1965 and received his Associate of Arts degree in Accounting in 1970 at Montgomery College, Maryland. He retired from the U.S. Army with 15 years of service.
Survivors include his wife, Martha Jackson Holley; his children, Kelly and Daniel; one grandchild, Kayla Walker; three sisters; and six brothers.
I'm free
Don't grieve for me, for now I'm free
I'm following the path God laid for me.
I took his hand when I heard him call.
I turned my back and left it all.
If parting has left a void
Then fill it with remembered joy.
A friendship shared, a laugh, a kiss,
Oh, yes, these things I, too, will miss.
Be not burdened with times of sorrow.
I wish for you the sunshine of tomorrow.
My life's been full; I've savored much –
Good friends, good times, a loved one's touch.
If my time seemed all too brief,
Don't lengthen it now with undue grief.
Lift up your heart and share with me.
God wanted me now; He set me free.
9/11 Pentagon Memorial Heroes
Meet the Heroes
The Pentagon Memorial was created to remember and honor those family members and friends who are no longer with us because of the events of September 11th, 2001 at the Pentagon.