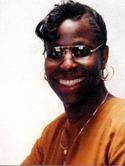 9/11 Pentagon Memorial Heroes
SSG Maudlyn A. White
Born February 20, 1963, 38 years old
Staff Sergeant (SSG) Maudlyn A. White was born on 20 February 1963 to the late James White and Mrs. Priscilla Irish on the island of Montserrat. At the age of 12, she moved to St. Croix, U.S. Virgin Islands, which she called her home. She graduated from St. Croix Central High School in 1982. Seeking higher education she attended Bennett College in North Carolina. Having the opportunity to take advantage of the Army College Fund, Maudlyn enlisted into the United States Army in July of 1985. A passionate seeker of knowledge, Maudlyn continued her education and earned a Bachelor's degree from Strayer University in Computer Information Technology.
Maudlyn enjoyed running, reading, bowling and spending quality time with her daughter.
SSG White's military career began at Fort Jackson, North Carolina where she completed her Basic and Advanced Individual Training as an Administrative Specialist. Her military assignments included two overseas tours (Frankfurt, Germany and Camp Casey, Korea); Chicago, Illinois; and Alexandria, Virginia. Her most recent assignment was with the Office of the Deputy Chief of Staff for Programs.
SSG White's awards include: the Purple Heart and Meritorious Service Medal with Oak Leaf Cluster (posthumously), the Army Commendation Medal with Oak Leaf Cluster, the Joint Service Commendation Medal, the Joint Service Achievement Medal, the Army Achievement Medal with two Oak Leaf Clusters, and the National Defense Service Medal.
SSG White became a proud parent on 13 February 1995, giving birth to her daughter, Vielka White. Vielka quickly became her life and life was Vielka for SSG White. Vielka was not only a daughter to SSG White, but a best friend and playmate.
SSG Maudlyn White was strong, determined, independent, educated, responsible, strong willed, and always gave her best to everyone she came in contact with.
9/11 Pentagon Memorial Heroes
Meet the Heroes
The Pentagon Memorial was created to remember and honor those family members and friends who are no longer with us because of the events of September 11th, 2001 at the Pentagon.