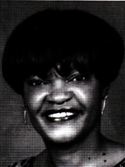 9/11 Pentagon Memorial Heroes
Ada L. Mason-Acker
Born June 20, 1951, 50 years old
A native of Picayune, Mississippi, Ada L. Mason-Acker served as a budget analyst for the U.S. Army. She graduated from Jackson State University in 1973 and worked in the banking industry until she began her career with the U.S. government in 1980. 
A strong-willed woman, she always strived for the best – not only in herself, but in her ability to set an example of excellence for others. Her enthusiasm for living showed in everything she did – in her appreciation of the differences among people she knew, in the enjoyment she derived from the fresh cut flowers that always filled her home, in her desire to explore the parts of the world she had never seen, in her eagerness to help her children avoid the struggles she, herself, had faced and overcome, and in her analytical approach to every decision she made. 
As a member of Alfred Street Baptist Church in Alexandria, Virginia, she sang in the choir and worked in the youth ministry and student tutorial ministry. Her involvement in her church reflected the deep sense of spirituality she felt and lived. Her Christian beliefs fueled her and gave her strength. It is no surprise that her favorite flower was the lily – the symbol of grace and eternal life. 
She leaves her husband, Sherman L. Acker, Jr. of Alexandria, Virginia; a daughter, Shannon Mason; a son, Shaun Mason; a stepson, Matthew Acker; three sisters and one brother; and her mother, Mrs. Sareatha Wilson of Gulfport, Mississippi.
9/11 Pentagon Memorial Heroes
Meet the Heroes
The Pentagon Memorial was created to remember and honor those family members and friends who are no longer with us because of the events of September 11th, 2001 at the Pentagon.