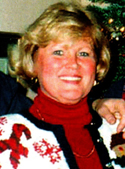 9/11 Pentagon Memorial Heroes
Barbara G. Edwards
Born April 5, 1943, 58 years old
Barbara Edwards was the purveyor of laughter and everything positive in her family and schools where she taught.
Edwards, 58, was killed along with two friends and other passengers as they flew from Washington, DC to Los Angeles on American Airlines Flight 77. She was returning home to Las Vegas, Nevada, after attending a friend's wedding in Connecticut and visiting others in Washington.
The native German leaves behind three sons, one of whom, Mike Edwards, lives in San Diego.
"My mom never let little things get us down," said another son, Captain Scott Edwards, a 28-year-old Marine pilot living in Beaufort, South Carolina, "Even if something went wrong, it was never the focus."
Edwards' younger sister, Jane Gollan, 57, of Seattle, remembered Edwards as her protector when they were children, and her soul mate when they were grown.
"We had some pretty good fights, but if anybody wanted to pick on me, that wasn't allowed," Gollan said. "I could go maybe two months without calling her. And when I did, it was like I just talked to her yesterday."
At Palo Verde High School in Las Vegas, where Edwards taught French and German for the past four years, principal Teri Smith said Edwards built her German language course from one class to six. Edwards was adviser to Palo Verde's International Club, for which she often bought treats. She was born in Frankfurt and came to the United States when she was a child with her stepfather, Jack Vander Baan, 74, and her mother, Lissy, both of Hopkins, Michigan.
She grew up in Michigan, but lived in various parts of the country. Edwards was a cheerleader in high school and a runner-up in a homecoming queen contest.
In addition to her parents and sons, Mike and Scott, Edwards is survived by a third son, Douglas, of New Jersey; a daughter-in-law, Christina; and a grandson, Scott, Jr.
9/11 Pentagon Memorial Heroes
Meet the Heroes
The Pentagon Memorial was created to remember and honor those family members and friends who are no longer with us because of the events of September 11th, 2001 at the Pentagon.