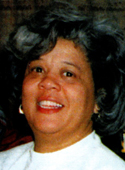 9/11 Pentagon Memorial Heroes
Brenda C. Gibson
Born February 22, 1942, 59 years old
Brenda Colbert Gibson, 59, budget analyst, Resource Services Washington, Office of the Administrative Assistant to the Secretary of the Army, a native Washingtonian, lived the last 13 years in Fredericksburg, Virginia. Brenda held positions in several different agencies during her more than 30 years of service in the Federal Government.
She was a loyal employee who recognized the importance of dedication to her job. As the end of this fiscal year approached, Brenda postponed major surgery in order to finalize her accounts at work. Every day she arose at four o'clock in the morning to begin her long commute from Fredericksburg to the Pentagon. Friends throughout the Pentagon remarked about her cordial greeting and pleasant smile as she moved about the concourse and corridors. She gave wise advice to co-workers and bragged about her 3-year-old granddaughter, Raven, according to several people there who knew her.
Brenda was a loving mother; doting grandmother; confidante/pal to her four sisters, Julie, Trugaye, Sharon and Terri; wife to Joseph M. Gibson, III; and devoted weekend companion for her mother, Florence Colbert, who suffers from Alzheimer's disease, and her father, LaBrent Colbert. Her son, Eric, 33, considered her his "best friend." Brenda enjoyed comic books, cartoons, jellybeans and sports, and was considered the family's trivia "queen." She knew a little bit about everything, especially her Redskins. She could often spot and call a penalty before the referee. Every touchdown was celebrated with her rendition of "Hail to the Redskins." She was the ultimate die-hard Redskins fan.
Brenda was a woman of integrity and much loved by her family and friends.
9/11 Pentagon Memorial Heroes
Meet the Heroes
The Pentagon Memorial was created to remember and honor those family members and friends who are no longer with us because of the events of September 11th, 2001 at the Pentagon.