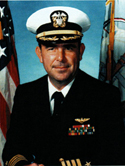 9/11 Pentagon Memorial Heroes
CAPT Jack D. Punches, USN, Retired
Born April 16, 1951, 50 years old
Captain Punches was a native of Tower Hill, Illinois and held a B.S. from Missouri University in Civil Engineering, an M.S. in Strategic Studies from the Naval War College, and an M.S. from Salve Regina in International Relations. 
Designated a Naval Aviator in 1975, Captain Punches received orders to Patrol Squadron Sixteen (VP-16) at NAS Jacksonville flying the P-3C. He completed three deployments before reporting as an instructor pilot to the FRS (VP-30) in Jacksonville, Florida. 
In July 1982, Captain Punches returned to sea duty when he reported to VPU-1 (Special Projects) in Brunswick, Maine. After two years of intelligence collection duties, he reported to the Navy War College in November 1984. 
Upon graduation from Naval War College in November 1985, he returned to Jacksonville, Florida to Patrol Squadron 49 (VP-49) as the Maintenance Officer. After one operational deployment and a Unitas deployment, he received orders as the OIC NAMTRAGRUDET JAX in July 1988. 
After an abbreviated tour, Captain Punches joined the Lifting Eagles of Fleet Logistics Support Squadron (VR-24) in Sigonella, Sicily as the Executive Officer in October 1989. He assumed command of VR-24 in January 1991 and deployed to Jeddah, Saudi Arabia in support of Operations Desert Storm/ Desert Shield. 
In June 1992, he reported to the new United Command USSTRATCOM as Chief, Airborne Operations in Omaha, Nebraska. In August 1995, he proceeded to the Office of Chief of Naval Operations as the Head of Navy Counterdrug and Special Assistant to the Under Secretary of the Navy for Counterdrug Matters at the Pentagon in Washington, DC. In June 1996, he assumed duties of Deputy Director, Operations and Interagency Support Division, under the newly assigned Coast Guard flag officer. CAPT Punches retired from the Navy in July 2000. From July until November 2000, Jack Punches served as Senior Consultant with Blue Stone Consulting of Alexandria, Virginia with principal duties assigned as senior advisor for Commander, Naval Forces, Southern Command in Puerto Rico. In December 2000, Jack Punches returned to the Navy as a senior civilian employee when he was appointed as Deputy Head, Navy Interagency Support Branch in the Pentagon. 
Captain Punches is survived by the former Janice Myers of Clifton, Virginia, and their two children, Jennifer and Jeremy; his mother, Mrs. Ruth Godwin of Ramsey, Illinois; and sisters Shirley, Janet, Ilena and Debbie. Also, he is survived by his grandfather, Mr. Floyd Punches and his father, Jack Punches, all of Sullivan, Illinois; and Mr. and Mrs. Jerry Myers of Shelbyville, Illinois. He was preceded in death by his stepfather, Leon Godwin, in March 2001. 
His favorite pastime since his retirement was golfing with his son, Jeremy, and helping his daughter, Jennifer, set up her very first apartment. In the Navy, Captain Punches accumulated more than 7,000 flight hours and 50 carrier landings. His personal awards include Legion of Merit, Defense Meritorious Service Medal, two Meritorious Service Medals, Navy Achievement, Meritorious Unit Commendation, Navy Unit Commendation and various other service/ campaign medals.
9/11 Pentagon Memorial Heroes
Meet the Heroes
The Pentagon Memorial was created to remember and honor those family members and friends who are no longer with us because of the events of September 11th, 2001 at the Pentagon.