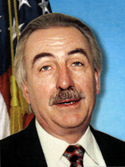 9/11 Pentagon Memorial Heroes
Charles E. Sabin, Sr.
Born July 31, 1947, 54 years old
Charles (Chuck) Edward Sabin was born on July 31, 1947 in Lansdowne, Pennsylvania. He attended the Drexel Institute of Technology, where he was a member of the Beta Gamma Sigma fraternity and the Reserve Officers Training Corps. After four years on the Dean's List, Chuck graduating with a Bachelor of Science degree in 1969, and began his federal service career as an accountant with the Army Audit Agency. He was commissioned in January 1970, and served on active duty with the U.S. Army in Belgium, and then in Holland until May 1972. Upon his return to the United States, Chuck continued his civilian career with the U.S. Army in Philadelphia, Pennsylvania; Fort Monmouth, New Jersey; and Vint Hill Farms, Virginia. During this period, Chuck received a Masters degree in Business Administra-tion from Fairleigh Dickinson University and the U.S. Army Commander's Award for Civilian Service.
He joined the Defense Intelligence Agency (DIA) in August 1981 as an accountant, and went on to become DIA's Senior Financial Resources Expert as a Defense Intelligence Senior Level appointee. Chuck received the Director's Award for Meritorious Service in 1984 and the Director's Award for Exceptional Service in 1991. As a key DIA senior manager, his incisive analysis and outstanding leadership led DIA's financial policy and accounting office through the major organizational and systemic changes of the 1980s and 1990s. His many significant accomplishments included: leading the team that developed financial policies and accounting procedures to support establishment of the Defense Human Intelligence Service; establishing DIA financial support contingency plans for Y2K; and providing expert counsel to senior leadership and personal mentoring to many DIA employees. Chuck's family said he was planning to retire in a year and a half. He always intended to move to Asheville, North Carolina, to be near streams, lakes, mountains and good fishing, but six months ago he changed his mind and decided he would stay in DC. He felt that all of his friends were here. His family felt that he was just at his pinnacle; he loved life and had many good friends.
Mr. Sabin is survived by two sons, Charles E. Sabin, Jr., his wife, Tara, and their children, Raven and Sydney of River Ridge, Louisiana, and Paul M. Sabin of Mobile, Alabama; and two brothers, Martin Sabin and his wife, Debbie, of Havertown, Pennsylvania, and Frederick Sabin and his wife, Chris, of Ocean View, Delaware.
9/11 Pentagon Memorial Heroes
Meet the Heroes
The Pentagon Memorial was created to remember and honor those family members and friends who are no longer with us because of the events of September 11th, 2001 at the Pentagon.