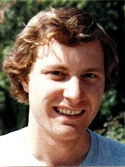 9/11 Pentagon Memorial Heroes
Leonard E. Taylor
Born August 20, 1957, 44 years old
Leonard (Lenny) E. Taylor was born in Pasadena, California in 1957. Shortly thereafter his family moved to Massachusetts where he was raised and educated. Lenny graduated from Andover High School in 1974. He was an outstanding athlete and captain of the Andover High hockey team in his senior year. Lenny obtained a Bachelor of Science degree in Physics with Honors from Worcester Polytechnic Institute in 1979. After graduation he took a position as an Analyst with XonTech, Inc., in Van Nuys, California.
While in California, Lenny continued his avid interest in hockey, playing both amateur and semipro hockey and coaching youth hockey. During this period he met his beautiful bride, Karyn, and was married in 1988. In 1989, Lenny transferred to XonTech's Washington, DC office where he continued his career becoming a Technical Group Manager. Lenny became very involved in bike riding. He often rode the 20 miles one-way to work and participated in various bike races and tours for local charities.
Lenny was dedicated to his family, never missing an event and taking immense pride in the girls he loved so deeply. His devotion, spirit, and love will be missed more than any words could describe.
He is survived by his wife, Karyn; his daughters, Jessica and Colette; mother, Mary; father, Raymond; sisters, Ann and Barbara; brothers, Gregory and Jeffery; and many aunts, uncles, nieces, nephews and cousins.
9/11 Pentagon Memorial Heroes
Meet the Heroes
The Pentagon Memorial was created to remember and honor those family members and friends who are no longer with us because of the events of September 11th, 2001 at the Pentagon.