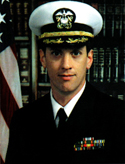 9/11 Pentagon Memorial Heroes
CDR Dan F. Shanower, USN
Born February 7, 1961, 40 years old
CDR Dan F. Shanower was born on February 7, 1961 in Naperville, Illinois. He was a member of Naperville Central High School's varsity soccer team and graduated in 1979. He attended Carroll College in Waukesha, Wisconsin, graduating in 1983 with a Bachelor of Arts degree in Political Science. While a student at Carroll, he participated in the Washington Semester at American University, interning in the office of Illinois Senator Charles Percy, then Chairman of the Foreign Relations Committee.
CDR Shanower attended Aviation Officer School in Pensacola, Florida and received his commission as an Ensign, U.S. Navy in June 1985. After attending the Armed Forces Air Intelligence Training Course at Lowry Air Force Base, Colorado, he reported to VAQ-136 onboard U.S.S. Midway in March 1986 as Squadron Intelligence Officer. In September 1988, he was assigned as Officer-in-Charge of the Pacific Fleet Area Support Team Detachment, Subic Bay, Philippines. Following this tour, he transitioned to the Naval Reserve, serving from August 1990 to October 1994 as a Foreign Service Officer with the U.S. State Department in the Philippines.
CDR Shanower was recalled to active duty in November 1994 and reported to the Navy & Marine Corps Intelligence Training Center as a student. He was assigned to the Joint Intelligence Center, Pacific Detachment Japan in December 1994 as Operations Support Department Head. In May 1997, he received orders to the staff of the Commander, U.S. Third Fleet in San Diego, California aboard the U.S.S. Coronado as the Assistant Intelligence Officer.
In June 1999, CDR Shanower reported to the Office of Naval Intelligence in Washington, DC as Fleet Support Department Head. He began graduate work in the Naval War College. In August 2000, he was selected as the Officer-in-Charge of the Chief of Naval Operations Intelligence Plot. There he was responsible for the provision of current intelligence support to the Navy Secretariat, Chief of Naval Operations staff, and the Director of Naval Intelligence. In December 2000, he was promoted to his final rank of Commander.
CDR Shanower's personal and professional commendations include the Defense Meritorious Service Award, two Navy Commendation Medals, the Navy Achievement Medal, the Purple Heart, and numerous campaign and service awards. Carroll College awarded him its first Distinguished Alumni Award for Service to Country in February 2002. Naperville Central High School recognized his contributions to his country by presenting him an Outstanding Alumni Award in May 2002.
Dan was known for his ready smile, terrific sense of humor, love of conversation, ability to tell a story, love of politics, and his intellectual and cultural curiosity about the world. He loved the sea, sailing, scuba diving, water skiing, and above all else, his family, friends and the Navy. He enjoyed writing both fiction and non-fiction, and many of his opinion essays and articles were published in the United States Naval Institute Proceedings, including the poignant May 1997 one entitled, "Freedom Isn't Free." His article reflected on the loss of his shipmates in 1987, and he wrote:
"Those of us in the military are expected to make the ultimate sacrifice when called. The military loses scores of personnel each year. Each one risked and lost his or her life in something they believed in, leaving behind family and shipmates to bear the burden and celebrate their devotion to our country… They knew the risks they were taking and gave their lives for something bigger than themselves."
CDR Shanower's survivors include his parents, Dr. Donald, WWII veteran and college professor, and Patricia, retired public school teacher; brothers, Thomas and Jonathan; sisters, Victoria and Paula; and eight nephews and nieces.
He was interred at Arlington National Cemetery on October 1, 2001.
9/11 Pentagon Memorial Heroes
Meet the Heroes
The Pentagon Memorial was created to remember and honor those family members and friends who are no longer with us because of the events of September 11th, 2001 at the Pentagon.