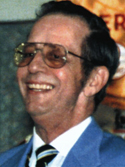 9/11 Pentagon Memorial Heroes
SFC John J. Chada, USA, Retired
Born September 13, 1945, 55 years old
A two-time Vietnam veteran, John J. Chada followed his long military career (in which he served in both the U.S. Navy and the U.S. Army), by working as an administrative assistant for the Department of Defense Information Management Support Center.
A devoted and outstanding husband, father, grandfather, uncle and friend – he was a member of the Moose Lodge 1380 in Manassas, Virginia for the past 13 years. During this time, he served as Governor, Junior Governor, Membership Chair of the Lodge, and President, Past President, and Director of the Moose Legion. He also served on the planning committee for the 2001 Moose Legion Convention and was recently elected Fourth District Secretary of the Virginia Moose Association. While a member, he earned his Fellowship degree.
A lifetime member of the Veterans of Foreign Wars, he was also a member of the American Legion. Born September 13, 1945, in Milwaukee, Wisconsin, he was two days short of his 56th birthday at the time of his passing.
Survivors include Ginger, his wife of 30 years; a daughter, Tammy Merritt; two grandchildren; and numerous nieces and nephews.
9/11 Pentagon Memorial Heroes
Meet the Heroes
The Pentagon Memorial was created to remember and honor those family members and friends who are no longer with us because of the events of September 11th, 2001 at the Pentagon.