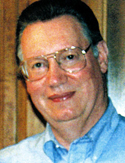 9/11 Pentagon Memorial Heroes
Donald D. Simmons
Born January 6, 1943, 58 years old
Don was born and raised in Illinois and served in the Army from 1964 to 1966. He met his wife, Peggy, while assigned to Ft. Myer and they were married in 1968. His innate honesty, love of God and generous spirit made him a friend to everyone. He was an avid fisherman, inventor and artist. He was very interested in Republican politics and was a true patriot.
Don enjoyed spur of the moment weekend excursions with his wife to different places, for example: county fairs, craft shows, the ocean, the mountains, and antiquing throughout Virginia and Maryland, often indulging Don's love of crab cakes and desserts. Don was looking forward to retirement and spending more time with his family and traveling with his wife so he could paint more of America's beautiful mountains and scenery.
He was a true example of everything a father and husband should be – devoted, compassionate, supportive and loving!
9/11 Pentagon Memorial Heroes
Meet the Heroes
The Pentagon Memorial was created to remember and honor those family members and friends who are no longer with us because of the events of September 11th, 2001 at the Pentagon.