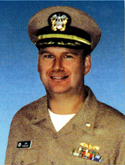 9/11 Pentagon Memorial Heroes
CDR Robert A. Schlegel, USN
Born June 6, 1963, 38 years old
Commander Schlegel graduated magna cum laude from Washington and Lee University in 1985 with degrees in both French and Journalism. He received his commission in 1986 upon completion of Officer Candidate School in Newport, Rhode Island. His first sea tour was on U.S.S. Spartanburg County (LST 1192), where he served as Combat Information Center Officer, Electronic Material Officer and Gunnery Officer. In 1988 CDR Schlegel transferred to U.S.S. Harry E. Yarnell (CG 17) for a tour as Damage Control Assistant. He then served as Cruise Missile Instructor at Fleet Combat Training Center Atlantic. CDR Schlegel served a department head tour as Engineer Officer on U.S.S. Scott (DDG 995) from 1993 to 1996. Following this tour he was assigned to the Commander-in-Chief, U.S. Atlantic Fleet staff as the Officer-in-Charge of the Tomahawk Afloat Planning System and the Tomahawk action officer for the Director of Operations, Plans and Policy. He then served as Executive Officer on U.S.S. Arthur W. Radford (DD 968) from May 1999 until September 2000. CDR Schlegel reported to the Pentagon and assumed duties as Deputy Current Operations and Plans Branch Head for the Chief of Naval Operations. He was selected for afloat command in December 2000 and promoted to the rank of Commander in August 2001.
CDR Schlegel held a Master of Arts degree in International Affairs from Old Dominion University and received a Naval War College diploma for completion of the Joint Professional Military Education program. His awards include the Purple Heart, a Meritorious Service Medal, four Navy and Marine Corps Commendation Medals, the Navy and Marine Corps Achievement Medal, a Meritorious Unit Commendation, a National Defense Service Medal, an Armed Forces Expeditionary Medal, the Armed Forces Service Medal, five Sea Service Deployment Ribbons and a NATO Medal.
CDR Schlegel was originally from Gray, Maine. He was known for his keen wit, forthright nature and avid interest in ice hockey and football. CDR Schlegel carried on a Navy tradition deeply embedded in his family as his father and two brothers also served in the Navy. CDR Schlegel was devoted to his wife, Dr. Dawn Schlegel, and shared many wonderful memories of their times together in high school, college and 13 years of marriage. He lives on in the hearts of his many friends, colleagues and family.
9/11 Pentagon Memorial Heroes
Meet the Heroes
The Pentagon Memorial was created to remember and honor those family members and friends who are no longer with us because of the events of September 11th, 2001 at the Pentagon.