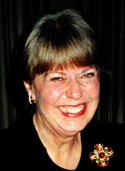 9/11 Pentagon Memorial Heroes
Darlene E. Flagg
Born October 21, 1938, 62 years old
Darlene Ellen "Dee" Embree Flagg, of Millwood, Virginia, was on American Flight 77 on September 11th with her husband of 40 years, retired Rear Admiral Wilson "Bud" Falor Flagg, U.S. Navy.
She was a 1956 graduate of Corona High School, Corona, California and a 1960 graduate of the University of California in Santa Barbara. She taught school in Annapolis, Maryland and married "Bud" when he graduated from the U.S. Naval Academy in June 1961. She was a devoted Navy spouse, mother and grandmother, and active in the communities that she lived in.
In Ridgefield, Connecticut she renovated Keeler Tavern and operated the gift shop. As president of the Ridgefield Woman's Club, she was instrumental in the erection of the bandstand at Ballard Park.
In Millwood, Virginia she was a member of the Blue Ridge Hunt Club and Greenway Garden Club of Clarke County. She was an active member of Grace Evangelical Lutheran Church in Winchester, Virginia. She was an artist and involved in fostering children's artistic talent.
Dee was never too busy, however, to do small or large acts of kindness. Her acts of kindness began at home. Nothing was too difficult, too time consuming, or too inconvenient for her if it helped her family in any way.
She is survived by two sons, Marc and Michael; a sister, Doris Koehler; and four grandchildren, Elizabeth, Mitchell, Michael and Natalie.
While we mourn the loss of such a caring and giving person, we are strengthened by remembering her comforting nature and loving ways. Her sense of humor and acceptance of people was a big part of her being. She was sincerely interested in other people, and wanted people to enjoy life as much as she did. She enjoyed many things that most of us would define as work. She was an active, energetic woman whose life was filled with dreams and plans of action for today and tomorrow. We would do well to follow in the footsteps that she has laid before us. May she rest in eternal peace and happiness with her loving husband.
9/11 Pentagon Memorial Heroes
Meet the Heroes
The Pentagon Memorial was created to remember and honor those family members and friends who are no longer with us because of the events of September 11th, 2001 at the Pentagon.