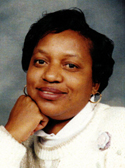 9/11 Pentagon Memorial Heroes
Cecelia E. (Lawson) Richard
Born June 2, 1960, 41 years old
Cecelia was born on June 2, 1960 to Mazie I. (Ward) Lawson and the late John F. Lawson. A native Washingtonian, she was the youngest of eight children. She attended schools in the DC area and graduated from the Job Corps in 1980 with a Certificate in Accounting. After her graduation, she was employed with the Department of Defense and held several positions within the department at the Washington Navy Yard, Fort Belvoir and the Pentagon, Department of the Army, where she was currently employed. At the time of her death, she had 21 years of Federal Government service.
While employed at the Pentagon, she was an Accounting Technician in the Managerial Accounting Division. This division was responsible for payment of telephone billing. Her position was ensuring that payments to vendors were made promptly; she had a special eye for detail. She was a dedicated employee who demonstrated excellent job skills. She received various awards for Outstanding Performance, Customer Service and Achievements during her tenure.
She was also employed by FedEx Field, the home of the Washington Redskins, as a Ramp Usher on the Club Level since 1999. She also participated as a volunteer mentor in the Partnership for Education Program for public schools in Virginia.
Cecelia had a love for God, life, her husband and family. She always found ways to help others. Whenever someone needed her help, she was always there for them. She touched many people with her kindness, generosity and willingness to help.
She enjoyed traveling, listening to music, shopping and planning family outings. Children had an attraction to her smiles and dimples. Her special talent was making beautiful silk floral swags for family and friends, putting her favorite flower, the Magnolia, in each of her arrangements. She made beautiful napkin arrangements for the family-owned catering business. She also had a love for animals, especially her black Labrador Retriever, Colby.
In 1994 she met her soul mate, Michael L. Richard. In December 1995 they were united in marriage and she loved him dearly until her death.
She is truly missed by her family and friends. Although our hearts are broken, we are rejoicing knowing that she is with Jesus. Her spirit will live with us forever.
9/11 Pentagon Memorial Heroes
Meet the Heroes
The Pentagon Memorial was created to remember and honor those family members and friends who are no longer with us because of the events of September 11th, 2001 at the Pentagon.