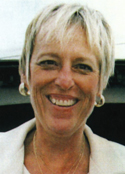 9/11 Pentagon Memorial Heroes
Mary Jane Booth
Born November 18, 1936, 64 years old
Mary Jane Booth, 64, was a lifelong resident of Northern Virginia, growing up in Arlington and settling in Falls Church. She had worked for American Airlines for 45 years and was secretary to American's general manager at Dulles International Airport for more than three decades, arriving shortly after the airport opened.
She was known by almost everyone who worked at Dulles, and there were few things about the airport or its people that she didn't know. "She was the friendly glue that kept everyone together," airport manager, Keith Meurlin, said. "She'd take you under her wing and teach you the airline business." "At this airport, she was a mother to everyone," said Dennis Hazell, the latest who had come to think of himself as "her" general manager. She was fondly called "M.J." except at the annual American Airlines holiday party, when she dressed the part and everyone called her Mrs. Santa Claus.
On September 11th, M.J. boarded her airline's Flight 77, en route to a Las Vegas meeting of the employee's credit union. As word spread that she was aboard the plane that hit the Pentagon, hotels, flower shops, and other businesses with which she had dealt, began sending condolences.
Mary Jane had lost her husband, Jim, some 18 months before September 11th. They had no children, but she loved her yellow Labrador retriever, Addie, as if she was one. She spent many hours exercising, gardening and cooking, and enjoyed the love and fellowship of her family and many friends.
Her sister and brother-in-law, Nancy and Ted Kimbell, reside in Dallas, Texas. She is also survived by a niece, Kendra, and a nephew, Keith.
9/11 Pentagon Memorial Heroes
Meet the Heroes
The Pentagon Memorial was created to remember and honor those family members and friends who are no longer with us because of the events of September 11th, 2001 at the Pentagon.