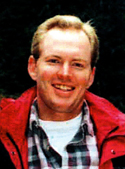 9/11 Pentagon Memorial Heroes
Chandler R. Keller
Born October 8, 1971, 29 years old
Chad was born in Manhattan Beach, California on October 8, 1971, and died September 11, 2001 onboard the hijacked American Airlines Flight 77 that departed from Dulles International, Washington, DC, bound for Los Angeles.
Chad was a lead Propulsion Engineer and a Project Manager with Boeing Satellite Systems in El Segundo, California. He had been with Hughes/Boeing for just over five years and was involved with their satellite launch program. He graduated in 1993 from the University of Colorado's renowned Aerospace Engineering program. Chad grew up in Manhattan Beach and spent part of his childhood in Hong Kong, New York, and Sydney, Australia, due to his father's assignments with Security Pacific Corporation. Chad graduated from Bishop Montgomery High School in Torrance, California in 1989.
From an early age, Chad had a love of rocketry and the travel of space. He was technically very capable, with the ability to fix anything. In addition to a brilliant scientific mind, he also had a very astute business sense. He lived life to the fullest and never missed an opportunity to be with friends. He loved to surf, ski, snowboard and cook, and had a wonderful sense of humor. Mixed with that humor was a very down-to-earth and genuine man. He had the ability to bond with people he met and touched many in the world in his short life. He was extremely loyal to his wife, his family and his friends. He and his wife, Lisa, were married just over a year ago on July 22nd at the Old Mission in Santa Barbara. They enjoyed travel, outdoor activities and, most of all, being with each other. 
On November 5, 2001, he was awarded the Medal of Freedom, posthumously, by the Department of Defense and the National Reconnaissance Office (NRO) for his work with Boeing Satellite Systems and the NRO.
He was a loving husband, respected by his co-workers, admired by his brothers, and an immense pride and joy to his parents. He is survived by his wife, Lisa Hurley Keller, of Manhattan Beach; his parents, Kathy and Dick Keller, of Del Mar; and his brothers, Brandon and Gavin.
9/11 Pentagon Memorial Heroes
Meet the Heroes
The Pentagon Memorial was created to remember and honor those family members and friends who are no longer with us because of the events of September 11th, 2001 at the Pentagon.