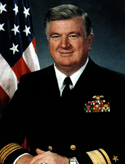 9/11 Pentagon Memorial Heroes
RADM Wilson F. Flagg, USNR, Retired
Born October 25, 1938, 62 years old
Retired Rear Admiral Wilson "Bud" Falor Flagg, U.S. Navy was on American Flight 77 on September 11th with his wife of over 40 years, Darlene Ellen "Dee" Embree Flagg.
He was a 1956 graduate of Corona High School, Corona, California and a 1961 graduate of the U.S. Naval Academy. He married his high school sweetheart, Dee, immediately after graduation. Admiral Flagg went on to flight training and was designated a Naval Aviator in 1962 and became qualified in the F-8 Crusader. Two of the three deployments to Southwest Asia that he made on the U.S.S. Oriskany (CVA 34) were combat cruises. He left active duty in 1967 and joined American Airlines and the Naval Reserve, enjoying successful careers in both.
As a Naval Reserve officer, Rear Admiral Flagg commanded two Naval Air Reserve F-8 squadrons and two Naval Air Reserve Force augment units. He served in the Pentagon as Special Assistant to the Honorable Fred Davidson, Deputy Assistant Secretary of the Navy for Reserve Affairs, and as Assistant Chief of Naval Operations for Air Warfare. He also served as Assistant Chief of Staff, Readiness and Training on the staff of Commander Naval Air Forces U.S. Atlantic Fleet, and as Deputy for Reserve Affairs on the staff of Commander in Chief, U.S. Atlantic Fleet. He was selected for promotion to Rear Admiral in 1986; retiring in 1995 with two stars. He retired in 1998 from American Airlines as a captain.
He was a member of the Blue Ridge Hunt Club and an active member of Grace Evangelical Lutheran Church in Winchester, Virginia. He and his wife, Dee, operated Daybreak Farm in Millwood, Virginia. The farm kept both very busy and certainly was, in many respects, a work of love. The neighbors and passersby watched the fields, the fences, the barns become more and more beautiful under their care. The farm served as a gathering point for their family and the grandchildren spent many special days, summers and years with their 'special' grandparents.
Two sons, Marc Flagg of Boca Raton, Florida, and Michael Flagg of Millwood, Virginia; a sister, Patricia Sellek of Las Vegas, Nevada; and four grandchildren survive Rear Admiral Flagg. While we mourn the loss of this wonderful human being and accomplished professional, we are comforted in knowing that he was the other half of a perfectly matched set.
9/11 Pentagon Memorial Heroes
Meet the Heroes
The Pentagon Memorial was created to remember and honor those family members and friends who are no longer with us because of the events of September 11th, 2001 at the Pentagon.