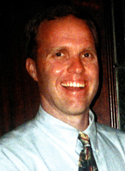 9/11 Pentagon Memorial Heroes
David W. Laychak
Born January 13, 1961, 40 years old
Dave was a kind, good-hearted person. He was smart, athletic and fun, but what made him special was his genuine concern for people. He had a calming demeanor and a gentle spirit that touched everyone he met. Dave was a dedicated family man and a very involved father. He and his wife, Laurie, had two children: Zachary, 9, and Jennifer, 7. Dave loved spending time with his family going on trips, taking nature walks, playing in the yard, coaching kids' teams, rough housing, telling stories, hugging and laughing. Dave also loved sports, his friends, his country and his church. 
As the son of an Army officer, Dave grew up all over the country. He was the quarterback for his high school football team and played four years of college football. Dave never stopped playing sports of all types – especially softball, basketball and racquetball. 
Dave graduated from Brown University in 1983 and began his career with the Department of the Army. He started working in the Pentagon, where he met his wife, in 1984. Dave spent seven years as a Budget Analyst for the Office of the Administrative Assistant to the Secretary of the Army. He left the Pentagon in 1991 to attend the Army Comptrollership Program where he received his M.B.A. from Syracuse University. Dave accepted a position with the Army Signal Command, at Fort Huachuca, Arizona. Dave loved the sense of peace that the open spaces and beautiful mountains provided. 
Dave led a distinguished career graduating from many programs to include the Army Management Staff College. He was also currently attending the Defense Leadership and Management Program – an extensive six-year program. In the Fall of 2000, Dave returned to the Pentagon as Chief, Budget Execution Branch, Program and Budget Division, Resource Services-Washington, Office of the Administrative Assistant to the Secretary of the Army. Unfortunately, his time there was cut short by the terrorist attack on the Pentagon on that fateful day – September 11, 2001. 
Dave believed in the fundamental values for which America stands and was truly proud to be able to serve his country as a civilian employee of the Department of the Army. Dave will be remembered as a loving and devoted husband, patient and supportive father, a good son, a faithful brother, a loyal friend, and an honest and respected colleague. He will be dearly missed and never forgotten.
9/11 Pentagon Memorial Heroes
Meet the Heroes
The Pentagon Memorial was created to remember and honor those family members and friends who are no longer with us because of the events of September 11th, 2001 at the Pentagon.