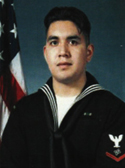 9/11 Pentagon Memorial Heroes
ET3 Daniel M. Caballero, USN
Born November 21, 1979, 21 years old
Naval Petty Officer 3rd Class Daniel Martin Caballero was born in Houston, Texas on November 21, 1979, to Andres and Carmen Caballero. Known to his family as "Danny" and to his shipmates as "Cabby," he graduated from Stephen F. Austin High School in Fort Bend County, Sugar Land, Texas in May 1998. After graduating from boot camp in November 1998, Daniel entered an electronics training program in Great Lakes, Illinois until September 1999. He was then assigned to Fleet Training Center in Norfolk, Virginia, where he continued his electronics training until December 1999. ET3 Caballero then received orders to report for duty at the Pentagon in December 1999, for which he felt pride, to the Chief of Naval Operations Telecommunications Center. While stationed at the Pentagon he was NCTS Washington's Junior Sailor of the Year for 2000. After his tour in Washington, DC, he was looking forward to an assignment at sea onboard the T-ARC-7 Zecus, a USNS ship. ET3 Caballero was a committed sailor proud to serve his country and determined to rise through the ranks and fulfill his dreams.
Petty Officer Caballero's awards and decorations include: Navy and Marine Corps Achievement Medal (two), Navy and Marine Corps Commendation Medal and a Purple Heart.
Daniel Martin Caballero, his big smile, kind heart and love of life will be greatly missed – but he will live on in the hearts of those who knew him.
Daniel is survived by his parents, Andres and Carmen Caballero; sisters, Andrea and Claudia Caballero; and numerous friends and family.
9/11 Pentagon Memorial Heroes
Meet the Heroes
The Pentagon Memorial was created to remember and honor those family members and friends who are no longer with us because of the events of September 11th, 2001 at the Pentagon.