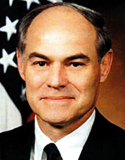 9/11 Pentagon Memorial Heroes
LTC Gary F. Smith, USA, Retired
Born October 9, 1945, 55 years old
Gary F. Smith, Chief of Army Retirement Services, began his military career on January 28, 1968 with an ROTC commission from Creighton University. His first command assignment was in 1968 as Company Commander/Platoon Leader with the 560th Signal Battalion in Vicenza, Italy. In 1970, he served as a Communications Officer with the 546th Infantry and as an assistant S-3 and S-4 of the 523rd Signal Battalion, 23rd Infantry Division deployed at Chu-Lai in the Republic of Vietnam.
From September 1971 through July 1974, he served as aide-de-camp and Training Officer with the Test and Evaluation Command at Aberdeen Proving Ground, Maryland. Then he was assigned as Executive Officer and Adjutant at the United States Disciplinary Barracks, Fort Leavenworth, Kansas.
After an assignment as equal opportunity officer with the Military District of Washington, he went overseas once more to serve as G-1 and Adjutant General with the Allied Forces Central Europe Reserve Corps headquartered at Maastricht in The Netherlands.
Returning to Washington in the summer of 1984, he served in the office of the Deputy Chief of Staff for Personnel, Alcohol and Drug Policy Branch, Headquarters Department of the Army.
In 1988 he served as Deputy Chief of Staff for Personnel, Administration and Logistics, U.S. Army Community and Family Support Center, Alexandria, Virginia.
From July 1989 until his retirement in October 1991, he served as Chief, Retired and Veterans Affairs, and later as Deputy Director and Director, Army Family Support Directorate of the Army Community and Family Support Center. He held his present position since January 1992.
LTC Smith holds a B.A. degree in Political Science from Creighton University and an M.S. degree in Systems Management from the University of Southern California. His military education includes the Command and General Staff College, Defense Equal Opportunity Management Institute, Adjutant General Officers Advanced Course, Signal Officer Basic Course and the Airborne School.
His decorations include the Soldier's Medal, Bronze Star with Oak Leaf Cluster, Legion of Merit, Meritorious Service Medal with three Oak Leaf Clusters, Army Commendation Medal with Oak Leaf Cluster, the Army General Staff Identification Badge and the Parachute Badge. Survivors include his wife, Ann, and four daughters.
9/11 Pentagon Memorial Heroes
Meet the Heroes
The Pentagon Memorial was created to remember and honor those family members and friends who are no longer with us because of the events of September 11th, 2001 at the Pentagon.