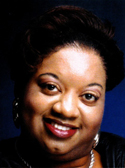 9/11 Pentagon Memorial Heroes
Peggie M. Hurt
Born February 27, 1965, 36 years old
Peggie Hurt had been on the job at the Pentagon only two weeks. Her position in the Army's accounting section, which followed a stint with the National Guard, was a promotion the Virginia State University honors graduate had eagerly sought. "She was excited to move on," said Delores Hardy, her cousin.
The 36-year-old Hurt, a native of Kenbridge, Virginia, lived in Springfield. She moved to Washington a few years ago from Richmond, where she had also held a government accounting position, so she often returned to her many friends and family in that part of the state.
"She was definitely a people person," Hardy said. She was also blessed musically and, with cousins and other relatives, a member of the Hurt Family gospel singing group. Her favorite song was "The Battle Is Not Yours, It's the Lord's," and with her voice, she could always lead.
On Monday night, September 10th, she and longtime family friend, Phyllis Adams, took Hurt's godmother to dinner for her 86th birthday. They had a grand time and stayed out too late for a work night, so Adams asked Hurt to give her a wake-up call Tuesday. She phoned about 6:45 a.m. The two women talked briefly and then hung up to get ready for work.
"May God get the Glory for the great things she has done," said Arthur W. Harris, her father.
9/11 Pentagon Memorial Heroes
Meet the Heroes
The Pentagon Memorial was created to remember and honor those family members and friends who are no longer with us because of the events of September 11th, 2001 at the Pentagon.